Gresham Computing's CTC Sales Were Up 212%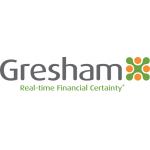 Gresham Computing's CTC Sales Were Up 212%
Gresham Computing plc, a leading provider of real-time financial transaction control and enterprise data integrity solutions, today announced a trading update for the year ended 31 December 2015 ("FY 2015").
The Group expects to report revenues for the year up 16% to £14.8 million and Adjusted EBITDA* up 142% to £2.7 million in-line with expectations.
Clareti Transaction Control (CTC) software sales were up 212% driving Group total software revenues ahead by 38%.
Recurring CTC software revenue continued the trend of consistent strong growth, increasing 90% on the previous period. During FY 2015 the Group signed a number of new clients in US, Europe and Asia Pacific and a number of existing customers increased their investment in the technology.
The Group closed the year with cash at £4.7 million, in line with expectations, and remains debt-free.
"We are building a leadership position in a new category of enterprise data integrity leveraging its disruptive Clareti technology platform and an expanding applications portfolio for financial control, risk management and regulatory compliance," said Ian Manocha, CEO Gresham.
"Gresham made significant progress in 2015 with 11 new CTC customer wins, in addition we launched our cloud platform Clareti-as-a-Service, strengthened the global organisation, and made further strategic investments into sales and marketing to sustain the positive momentum into 2016."
*Adjusted EBITDA refers to earnings before Interest, taxation, depreciation and amortisation, adjusted to add back share-based payment charges and exceptional items.
Free Newsletter Sign-up