Etrali trading solution launches call match and recording check service to give compliance offices greater assurance and control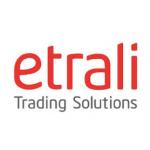 Etrali trading solution launches call match and recording check service to give compliance offices greater assurance and control
Etrali Trading Solutions, the global compliance and unified communication services integrator for trading, announces today at TradeTech that it enhances its portfolio of solutions with Call Match and Recording Check. These services help compliance officers and IT managers at financial institutions be proactive in their management of regulatory issues directly affecting the organisation's voice recording estate.
With the ever-increasing need to ensure a complete, accurate and quality record of all telephone calls on a trading floor, as required by rapidly changing regulation, financial market participants need assurance that their voice recording ecosystems are efficient and compliant. MiFID II requires regulated firms to record all telephone calls and electronic communications that are intended to result in a transaction. Businesses are also required to continuously monitor the operational activities and risks of voice recording ecosystems.
"Call Match and Recording Check monitor critical components of the compliance lifecycle, allowing compliance officers and IT managers to be aware of potential risks. Our solutions mitigate the risk of lost recordings that might result in regulatory censure or fines, by providing reports on potential problems and recording loss. Compliance officers are looking for peace of mind when facing challenges such as longer retention periods and increasingly prescriptive regulations. Accurately recording and storing vast amounts of data, as well as retrieving and accessing this data, are key concerns. Timely access to accurate data when needed, enabling regulatory impact analysis is a key asset," said Robert Powell, Global Head of Compliance and Product Management at Etrali.
Focusing on problem solving, Call Match and Recording Check are time-saving automated services, testing each phone, turret, line and recorded communications channel, enabling all sizes of trading floor even very large ones to be fully checked daily and ensuring:
Reliability of infrastructure by the monitoring of phones and associated recorded channels
Availability to check for faults and provide minimal delays in failure discovery
Control of the entire trading communications ecosystem including phones, turrets, lines and recorders
Accurate vision of recording efficiency with early warning reports
These services test all recorded channels, from turrets to fixed line calls, to ensure all audio streams are systematically and effectively recorded. The services are available for Etrali turrets as well as a set of common PBX and recording systems. The implementation of services such as Call Match and Recording Check assists customers in managing operational risks more efficiently and provides a proactive approach to the monitoring required to prevent major compliance issues. It enables IT teams and compliance officers to take action on potential issues before they impact the business.
Etrali Trading Solutions is launching these new additions to its product portfolio at TradeTech, a leading equities and trading event being held on the 14th and 15th April in Paris.
Free Newsletter Sign-up