Goods.ru marketplace now featured in Tinkoff super app
Goods.ru marketplace now featured in Tinkoff super app
As part of its ongoing effort to expand the range of lifestyle services offered in its super app, Tinkoff announces a partnership with goods.ru, a marketplace that brings together Russia's leading online stores. This will enable customers to shop at goods.ru right from the Tinkoff app and receive 5% cashback for each purchase.
The service is currently running in Moscow and the Moscow Region, and Tinkoff plans to make it available in all Russian regions going forward. At present, customers may select merchandise from 14 categories, including electronics and home appliances, children's goods, pet supplies, books, hobbies and stationery, beauty and personal care, food, and homeware. By the year end, the app will offer the full range of items from goods.ru (more than 1.7 million goods in 16 main categories).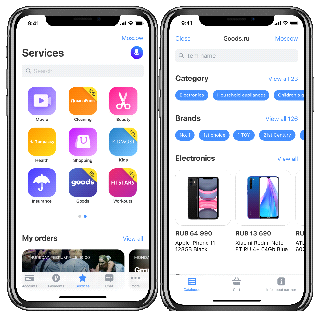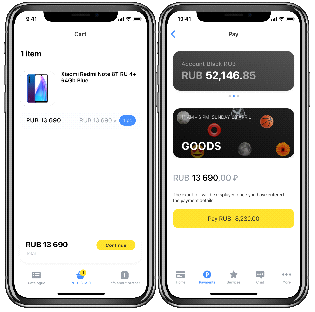 The Tinkoff super app and goods.ru are connected via the bank's Open API using an app-in-app model, giving the partner its own in-app mini-store and access to a personal account for updating the content. Under the partnership terms, goods.ru pays Tinkoff a fee for purchases to be returned to customers as cashback.
Going forward, Tinkoff super app partners will enjoy access to a machine learning-powered recommendation system to facilitate automated order building and promote goods and brands to customers based on their transaction history and other parameters. For example, the algorithm can remind customers about when to make regularly occurring purchases, such as dishwashing detergent, or suggest adding a new product to their diet. These recommendations will appear in Tinkoff Stories and as push notifications. They will also enable partners to manage promos more effectively.
Anna Mikhina, Vice President of Lifestyle Services Development at Tinkoff:
"Thanks toour partnership with goods.ru, we can offer our customers a full-scale shopping experience for almost any merchandise, from household goods to groceries – right in the app and with the added bonus of 5% cashback. This is a win-win for everyone: the users will benefit from a one-stop service for promos, cashback and access to the shopping interface, while goods.ru will get more orders from new customers and tools for effectively targeted promos. Tinkoff's super app is about to become even more "super". What's more, we plan to add other major partners and partner storefronts to our app by the end of the year. In parallel, we are creating a builder tool that will enable fast integration of multiple partners."
At present, Tinkoff super app features 18 lifestyle categories: movies, restaurants, theatres, travel, concerts, sports, fitness, flowers, cosmetics, quests, cleaning services, beauty, health, shopping, kids, insurance, workouts, and goods.ru.
Free Newsletter Sign-up