The 2015 level of VC investment in bitcoin companies exceeded investment in 2014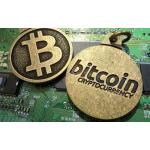 The 2015 level of VC investment in bitcoin companies exceeded investment in 2014
Cryptocurrencies
,
Investment
The recent deal that saw $20 million of venture capital invested in Amsterdam-based bitcoin mining company BitFury pushed the 2015 total to $357 million thereby overtaking the $350 million raised during 2014.

The cryptocurrency has enjoyed a steep rise in capital investment in recent years. But despite the fact that investment continues to grow, figures suggest that the growth is decelerating.

In 2012 it exceeded $2 million for the first time and then hit its highest level of growth to date in 2013 when bitcoin companies attracted $99.5 million of investment. This figure was trebled in 2014 despite the high profile collapse of bitcoin exchange MtGox and the 2015 levels could be set to double the previous years.

The biggest venture capital deal in 2015 thus far has been the $116 million raised by the US-based bitcoin startup 21 Inc which plans to distribute bitcoin mining chips embedded in hardware devices.
Free Newsletter Sign-up