Zero2Ten Named a Finalist for the 2015 Microsoft Dynamics Cloud CRM Partner of the Year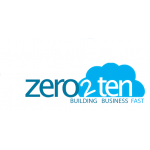 Zero2Ten Named a Finalist for the 2015 Microsoft Dynamics Cloud CRM Partner of the Year
Zero2Ten, Inc., a wholly-owned subsidiary of Edgewater Technology (Nasdaq:EDGW) and part of Edgewater Fullscope, has been named a finalist for the 2015 Microsoft Dynamics Cloud Customer Relationship Management (CRM) Partner of the Year Award. The company was honored among a global field of top Microsoft partners for demonstrating excellence in innovation and implementation of customer solutions based on Microsoft technology.
Awards were presented in several categories, with winners chosen from a set of more than 2,300 entrants from 108 different countries worldwide. The Cloud CRM Partner of the Year award recognizes exceptional partners who excel in providing their customers with solutions for sales automation, marketing automation, social engagement, and customer service.
"We are honored by this six-time nomination for the Cloud CRM Partner of the Year award, and believe it shows how we are executing the Microsoft 'cloud first, mobile first' vision," said Adam Spurr, managing director of Zero2Ten. "Zero2Ten is committed to delivering vertical IP, immersive rapid deployments, a systematic adoption methodology and continual learning programs, and that's driving growth for us and value for over 800 Microsoft Dynamics CRM customers around the world. Having won this award three of the last four years, we are delighted to be a finalist this year."
Free Newsletter Sign-up