Motion AI Launches First Chatbot Store And Marketplace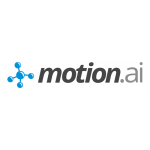 Motion AI Launches First Chatbot Store And Marketplace
Today Motion AI, the major chatbot building platform that services global consumer brands including Kia, Fiverr, Sony, Wix and many more, unveiled the first-ever chatbot store, Bot Store. Bot Store is a marketplace built on top of Motion AI's leading visual bot-building platform that offers turn-key templates for many chatbot use cases including customer service, meeting scheduling and surveys.
This one of a kind marketplace gives companies the opportunity to easily customize and deploy pre-built bots to their business on a variety of highly trafficked platforms, including Facebook Messenger, Slack, SMS, and the web. While using Bot Store requires zero programming skills, the Bot Store also allows coders to deploy Node.js code directly from the Motion AI interface - making integrating bots with third party APIs, databases and services simple.
At launch, the store will initially feature bots developed by Motion AI and their user base including:
Customer service assistance bot which allows companies of all sizes to take advantage of bots that help offload customer inquiries
Survey bots, to collect customer feedback
A personal meeting scheduler, powered by Calend.ly
More bots will be added regularly and developers will have the opportunity to be positioned prominently in the store. In short, the Bot Store will simplify bot deployment even further than Motion AI already has with its existing platform, by creating a templating system around common chatbot use cases.
"Our focus at Motion AI has been to significantly simplify the creation of chatbots. The platform dramatically reduces the amount of effort and cost associated with building and deploying a bot," says the company's CEO, David Nelson. "The introduction of Bot Store makes it even easier for companies to launch bots on the platform by providing in-depth templates that, in many cases, require little to no coding or training for customers."
Free Newsletter Sign-up