UK Management Consulting Industry Grows By 8%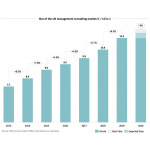 UK Management Consulting Industry Grows By 8%
The United Kingdom's management consulting industry has grown by 8.3% last year, its second fastest rate of growth since the financial crisis. Although less optimistic than a year ago, three out of four UK consulting firms expect demand for management consulting services to increase in the next 12-24 months.
The vast majority of consulting firms in the UK (86%) said that consultancy activity had met or exceeded expectations in the past 12 months, according to data release by the Management Consultancies Association (MCA). The association for the UK's consulting industry surveyed some 500 consultants for its analysis, including managing directors, partners and heads of consulting at generalist companies.
Over a third of consultancies (34%) ended the year exceeding their initial growth expectations, despite the political and economic turmoil of last year felt by the Brits. Tamzen Isacsson, chief executive of the MCA, said on the development, "The consulting industry continued to experience strong growth and meet the increasing demands from public and private sector clients."
With 8% growth, UK's consulting market roughly matches the growth of Germany's consulting industry in 2019, but sees the French outpace its performance by nearly 3%. According to Syntec Conseil – the MCA's counterpart for France – the French consulting market enjoyed a 11% boom in revenue to reach a total market value of just over €8 billion.
The main drivers of UK growth were not surprisingly digital and technology consulting work, amid a rapidly digitising business environment. Digital demand was strong across functions and industries, with digital strategy, IT programme management, robotics process automation, customer experience digitisation and applications development among the offerings that saw growth.
Work in sustainability services also saw a notable jump in 2019, with consulting firms increasingly being asked by businesses to advise them on environmental and sustainability issues. Top in-demand propositions in this space include reviewing business models for sustainability, identifying evolving customer sustainability expectations, detecting risks with climate change and implementing the sustainable development goals of the United Nations.
Heightened spending of the government on external consultants (as it did in the Netherlands a well last year) was another growth driver, as the public sector pushed through a number of major reforms and projects in areas such as infrastructure, tax and public services. Consultancy related to Brexit readiness jumped, however, this work was channelled to a handful of larger firms including McKinsey & Company, Boston Consulting Group and the Big Four.
Not all UK consultancies managed to ride on the growth wave. According to the MCA, the performances between the top performing consulting firms and lagging peers has become widened. Compared to the year previous, a slightly larger proportion of firms stated that consulting activity had failed to meet expectations – a 3% increase for SMEs and 5% increase for larger players.
2020: The road ahead?
In its forecast for 2020, the MCA paints a picture of optimism – 76% of the UK consulting firms surveyed expects activity to increase in the next one to two years, albeit a slight decline from the previous year (86%). Sectors expecting to see particularly high growth are the government & public sector followed by infrastructure, health & life sciences and energy & resources. Digital consulting will remain the fastest growing service area.
Challenges identified by UK's consulting leaders include finding and keeping talent on board and motivated, innovating business models to adapt to changing client demands and, in the case of the larger firms, fending off fee pressure challenges from the growing army of independent consultants and niche consultancies.
Free Newsletter Sign-up