Dubai Islamic Bank Taps Nasdaq BWise to Enhance its Risk Management and Compliance Processes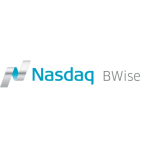 Dubai Islamic Bank Taps Nasdaq BWise to Enhance its Risk Management and Compliance Processes
Compliance
,
Risk Management
Nasdaq BWise has been selected by Dubai Islamic Bank, the largest Islamic bank in the United Arab Emirates, to support and further enhance their risk management, compliance and internal control processes gaining a deeper and more real-time visibility into their risks and overarching control frameworks.
"We were searching for an eGRC solution that enables us to enhance and strengthen our risk management practices throughout the organization," said Mr. Mohamed Abdulla Al Nahdi, Deputy CEO at Dubai Islamic Bank. "Nasdaq BWise was selected because of its user friendliness in one integrated GRC platform. In this way the compliance, risk and internal control departments will all have access to the right information from one single source."
"We are pleased to have been selected by Dubai Islamic Bank to help in further enhancing their GRC practices," said Rob van Straten, Global Head of Sales and Professional Services, Nasdaq BWise. "Their approach to risk management is mature and sophisticated and requires a robust but flexible eGRC software platform to comply with regulations and industry standards, such as ISO. Our global expertise in deploying eGRC software in the financial services industry provides Dubai Islamic Bank with a first-class GRC solution, supported by the Arabic language capabilities in BWise."
The BWise® GRC platform will support Dubai Islamic Bank to continue monitoring and managing its risks, compile and present reports for the board, senior management and regulatory authorities. The platform provides a holistic approach to risk management with more assurance, lower risk profiles, and reduction in the overall costs. By implementing one common risk taxonomy, Dubai Islamic Bank is ensured that policies and strategic objectives towards risk management are achieved.
Free Newsletter Sign-up