Latest Version of Appian 7 Accelerates Delivery and Increases Adoption of Powerful Enterprise Apps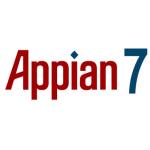 Latest Version of Appian 7 Accelerates Delivery and Increases Adoption of Powerful Enterprise Apps
Today at the Appian World 2015 conference (#Appian15), Appian is unveiling the latest version of Appian 7, the industry's leading Business Process Management(BPM)-based application platform. The new release enhances the application designer and end-user experiences when building, launching, maintaining, and using enterprise applications created on Appian.
Malcolm Ross, Appian's Vice President of Product, will deliver a main-stage presentation at the conference detailing how new capabilities in the Appian Platform further the company mission to enable enterprise-wide business transformation for Appian customers.
"Digital transformation initiatives are hampered by the time and effort required to deliver innovative applications to business users, as well as by the resistance those users can have to change," said Ross. "The latest release of Appian 7 accelerates delivery and adoption of enterprise apps to create new ways to work -- and new ways to engage customers -- in today's world of mobility, Big Data, cloud computing, and social collaboration."
The new release marks significant enhancements in application design and governance, interface construction, integration capabilities, enterprise mobility, and more. Appian's new Application Designer streamlines creation, navigation, and deployment of Appian applications, and capitalizes on Appian's leadership in visual composition as opposed to complex coding. The new Appian Sites capability along with enhancements to Appian SAIL make it easy to create dynamic user interfaces tailored specifically to heads-down task workers, knowledge workers in the office and in the field, as well as customers, partners and vendors. Appian's new Web API Dashboard allows designers to create custom Web APIs to meet their unique application needs, resulting in increased flexibility and faster integration. Mobile functionality is enhanced with offline capabilities so work does not have to stop when connectivity is disrupted. Additional updates include performance enhancements, language support, and more.
This newest version of Appian introduces and builds upon key features, including:
Designer Experience
New Application Designer interface delivers a more intuitive design experience
Real-time impact analysis provides visibility into design object relationships for fluid change management
New patching methodology lets designers quickly find recently modified objects and add them to a patch
New summary of security view enables instant security audits on applications
Web APIs - create custom Web APIs to meet unique application needs
User Experience
Sites - a focused interface for heads-down task workers
Enhanced offline mobile capability allows a user to complete a process form with no network connectivity
Tempo - Several enhancements make the familiar Appian UI more intuitive and user-friendly, easing adoption
About Appian
As the market leader in modern Business Process Management (BPM) software, Appian delivers an enterprise application platform that unites users with all their data, processes, and collaborations -- in one environment, on any mobile device, through a simple social interface. On-premise and in the cloud, Appian is the fastest way to deliver innovative business applications.
Free Newsletter Sign-up