Blockchain Live Confirms Headline Partner Sponsor Block.One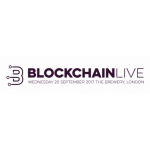 Blockchain Live Confirms Headline Partner Sponsor Block.One
Blockchain Live to be held on September 20, 2017 at The Brewery in London, is an international conference which aims to unlock the value of blockchain for enterprise and the public sector. As well as staging industry leaders making headlines in important developments in blockchain, Blockchain Live is proud to partner with block.one, the open source software and blockchain company developing EOS, the first blockchain operating system designed to support commercial decentralized applications.
Blockchain Live takes place at the historical Brewery in the centre of the City and Silicon Roundabout. Set across 5 content stages, Blockchain Live is the only blockchain event dedicated to tackling the varying challenges and barriers to blockchain adoption based on where you are in your blockchain journey.
"We believe that every centralized business will eventually be replaced by a decentralized blockchain solution," said Brendan Blumer, CEO of block.one. "Our newest project, EOS, is a high performance generalized blockchain platform that will empower businesses with the scale, security, authenticity and transparency needed to build and support global-scale projects on the blockchain. EOS is the first horizontally scalable blockchain platform with the native functionality of a full operating system and can handle an estimated 100 thousand transactions per second, greatly exceeding current leading platforms limited to 3-30 transactions per second and prohibitive transaction costs."
Blockchain Live will examine how to move beyond proof-of-concept towards resilient, scalable systems to reduce costs, improve efficiency, transparency and security for both organisations and citizens.
The agenda will feature keynotes, case studies in financial services, energy, real estate and government, as well as lively panel discussions, interactive workshops and insights into the latest in tech and software developments. The event will close with a unique opportunity to network at a drinks reception hosted by block.one.
Global speakers include:
- Brendan Blumer, CEO block.one, a new blockchain operating system designed to support commercial decentralized applications.
- Daniel Larimer, CTO block.one and Co-Founder of BitShares and Steemit, currently the two most heavily used blockchains.
- Brock Pierce, Partner at block.one, Co-Founder Blockchain Capital investing in entrepreneurs who are fostering innovation in the blockchain economy, and Chairman of the Bitcoin Foundation.
- Chris Skinner, best-selling author, of ValueWeb and Digital Bank and chair of the European networking forum: the Financial Services Club.
- Oliver T. Bussmann, blockchain Advisor to Fortune 100 companies & former group Group Chief Information Officer of UBS and SAP.
- Kaspar Korjus, Managing Director of e-Residency a new digital nation for global citizens, powered by the Republic of Estonia.
- Julie Maupin, senior fellow with the Centre for International Governance Institution (CIGI) and author of "Blockchains and the G20: Building an Inclusive, Transparent and Accountable Digital Economy".
- Chaired by Simon Taylor, co-founder of 11:FS and former blockchain research & development VP at the Barclays Accelerator.
Free Newsletter Sign-up