Now customers have wider assortment of debit cards with Yes Bank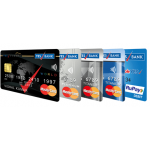 Now customers have wider assortment of debit cards with Yes Bank
Banking
,
Private Banking
YES BANK, India's fifth largest private sector bank, has ramped up its existing portfolio of Debit Cards with the launch of new Debit Card variants. The highlight of this ramp up is the introduction of NFC (Near Field Communication) technology across card variants to enable Contactless Payments. The Bank has also strengthened its focus on Rupay Cards, and has introduced two cards on this platform offering superior features and benefits.
Segmented across its flagship customer segments YES Prosperity and YES FIRST, these Cards have been carefully customized and designed around the specific needs of debit card customers. The bank will issue these cards to all new customers, and also focus on offering these to its existing Debit Card customers. With these Debit cards offering unique benefits, customers can now choose a Debit Card tailored as per their requirement.
New benefits of Debit Cards:
Reward Points on all spends
NFC enabled Cards for contactless payments
Quick and secure management of the Card spend features with YES InControl powered by MasterCard, which allows users to set customized limits on their Debit Cards across locations, and categories.
Discounts on BookMyShow
Enhanced daily withdrawal limits
High insurance cover
Airport Lounge access
Range of offers across Dining, Travel, Shopping and more
The list of features and benefits also include Fuel Surcharge waiver, a dedicated reward redemption portal amongst others.
The YES Prosperity Debit Card range comprises of YES Prosperity Titanium, Titanium Plus, Platinum and Rupay Platinum Debit Cards, whereas the YES FIRST range includes the YES FIRST WORLD Debit Card.
Speaking about the launch, Mr. Pralay Modal, Senior Group President- Retail and Business Banking, YES BANK Ltd said, "This launch will augment our efforts towards encouraging our customers to conveniently move to a less cash economy."
Free Newsletter Sign-up