Newest UK Bank Atom Chooses Global Tech Giant FIS To Offer Digital Banking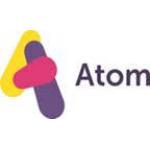 Newest UK Bank Atom Chooses Global Tech Giant FIS To Offer Digital Banking
Atom, the designed for digital challenger to the UK banking market, is partnering with FIS™ (NYSE: FIS), a global leader in banking and payments technology as well as consulting and outsourcing solutions, to serve banking customers on the go.
The Bank of England's Prudential Regulation Authority has recently authorized Atom to be the newest entrant to the UK banking market. The Atom business model has been designed entirely for digital, with Atom customers conducting their banking through an app that is supported by FIS' core systems.
FIS, which is headquartered in the United States, is a leader in banking technology worldwide, already supporting eight of the world's 10 largest banks and 14,000 clients across the globe. From their data centres in the UK, FIS will provide and manage a fully integrated banking and payments platform for Atom through a totally outsourced delivery model.
Speaking in advance of his presentation to the FIS 2015 Global Banking Perspectives event in Vienna, Atom Director of Customer Experience Stewart Bromley said:
"Designed entirely for the digital age, with an app the likes of which have not been seen in the UK banking market, Atom is perfectly positioned to provide outstanding service and value for personal and for business customers. As a fully fledged bank Atom offers complete control and protection to our customers as well as holding true to our principles and values all the way through the business. Partnering with FIS allows us to plug our products and systems into a proven back-end solution with global credentials that streamlines our efforts so we can focus on growth without worrying about underlying technology. Atom Bank's model, built on its partnership with FIS, is the next step forward from thin skim fintech apps that have been filling the void before the arrival of the truly digital banks."
Explaining the importance of the partnership to the Atom business model, Atom Chief Operating and Innovation Officer Edward Twiddy said:
"We have always been determined to offer customers control and assurance over service quality. We are not interested in designing a great front end simply to bolt this onto all the cost and reputational issues of an existing High Street bank's operating model. To do this we need an unparalleled quality of service and depth of partnership with our core technology partner; we have found that in FIS."
Peter Schurau, EVP, Global Financial Solutions, FIS, noted how pleased FIS is to bring such innovation to the UK market: "Atom needed a partner with proven capabilities in delivering banking-on-demand solutions. Outsourcing its banking infrastructure to FIS allows the bank to get to market faster and better compete with traditional high street banks, while building its business and delivering the best possible service to customers. We're thrilled to be confirmed as Atom's core technology partner and to be so closely involved in bringing this exciting new digital-only bank to market."
Free Newsletter Sign-up