Clarien Bank Migrates to VSoft's SaaS Environment for its Back Counter Deposit Solution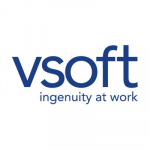 Clarien Bank Migrates to VSoft's SaaS Environment for its Back Counter Deposit Solution
VSoft Corporation, a global provider of information and technology solutions for financial institutions, announced that Bermuda-based Clarien Bank, with more than $1 billion in assets, has selected its Software as a Service (SaaS) delivery model for its OnView Back Counter Deposit solution.
A client of VSoft since 2011, Clarien Bank currently leverages OnView Back Counter Deposit to improve deposit capture processes and eliminate errors. By migrating to VSoft's SaaS model, Clarien Bank will be able to maintain processing controls while taking advantage of VSoft's state-of-the-art data center, which provides a full suite of digital banking, check, and core processing software solutions to financial institutions of all sizes.
"Clarien Bank strives to be the trusted advisor of choice to our customers and provide them with world-class products and services," said Minish Parikh, chief operations officer at Clarien Bank. "VSoft has proven to be a strategic partner in meeting these goals, and by transferring our deployment of their solution to a SaaS model, we can ensure we stay compliant with the changing regulatory environment."
Parikh continued, "Moving to data centers on the mainland will provide us with cost benefits, platform support, and increased efficiency while allowing us to leverage VSoft's regulatory expertise. This transition enables Clarien Bank to spend more time building relationships with our customers and addressing their needs."
Financial institutions can take advantage of VSoft's SaaS solution, which blends hosted applications with real-time remote access, to provide financial institutions with optimal solutions without having to invest in the architectural requirements of an internally deployed solution.
"The SaaS delivery model continues to draw financial institutions like Clarien Bank because it allows them to operate at the forefront of software development while eliminating the expensive cost of upkeep experienced with an on-premise solution," said Murthy Veeraghanta, chairman and CEO of VSoft Corporation. "At VSoft, we pride ourselves on understanding our customer's needs, and that's why we offer our flexible exchange program to all of our clients, which allows them to switch delivery models as their operations evolve. We're excited to continue supporting Clarien Bank's development with SaaS delivery that will meet their needs and free up valuable time for their employees."
Free Newsletter Sign-up