British Banks Failing To Reward Loyalty, Held Back By Customer Expectations Gap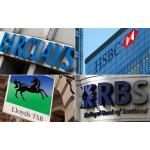 British Banks Failing To Reward Loyalty, Held Back By Customer Expectations Gap
The FIS Consumer Banking PACE Index™ tracks how financial institutions are performing against customer expectations in nine different countries: the United States, United Kingdom, Brazil, Canada, France, Germany, India, Netherlands and Thailand, using data compiled from more than 9,000 banking consumers. Commissioned by FIS, the study was conducted by TNS, one of the world's largest independent research agencies.
Global results
Results of the study show that, worldwide, banked consumers say financial institutions excel at providing digital access and convenience. However, in basic banking areas such as fair and transparent pricing, banks fall below consumer expectations. In fact, only one in four respondents believes a financial institution meets his or her needs in these basic trust and relationship areas. In addition, the study concludes there is great opportunity for banks to win consumer support by packaging rewards programs with personalized, customized banking products to meet customer needs.
This suggests that while the financial industry as a whole is successfully delivering digital access solutions, there are significant opportunities to reset the foundation for consumer relationships. In addition, the results indicate financial institutions can forge deeper relationships via the digital experience by fully leveraging online, mobile and social platforms to integrate with consumers' lives through insight-driven alerts, advisory services, planning tools and more.
"New providers and non-traditional financial institutions continue to make inroads, particularly amongst younger generations, who studies show will soon make up the majority of bank revenues," said Jonathan Davis, managing director, FIS. "With these challengers poised to grab customers, financial institutions have the opportunity to lead with their strengths and re-define advisory services. Consumers value the banking relationship and banks have a significant opportunity to be viewed as more than a vehicle for transactional convenience, but rather a true focal point of consumers' financial lives."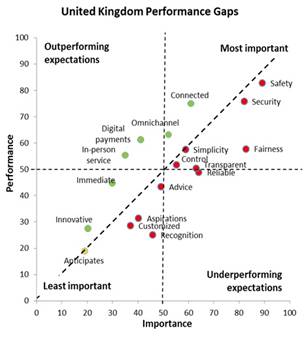 United Kingdom results
Financial institutions in the United Kingdom finished in the top third of all countries surveyed, ranking four points behind leader Germany and one point behind second place finisher the United States. This wasn't entirely surprising as developed nations were expected to see higher results than those with less financial infrastructure. However, while U.K. consumers rated large banks much higher overall than those in the United States, they also have higher-than-average expectations of banks in terms of being recognised or rewarded for their banking business. This led U.K. financial institutions to rate much lower for their loyalty programs.
Large banks highly rated, but face challenges
Retail banking in the United Kingdom is dominated by the four main domestic High Street banks, plus a large global bank. Together, these five hold 85% of market share. Those banks rate very highly amongst consumers, perhaps because they offer many different access points and quick responses. It also may be because 30% of consumers reported themselves as self-sufficient, DIY money managers.
Despite such self-sufficiency amongst their consumers, U.K. banks fared well below average for the simplicity of the products they provide. With new market entrants offering accounts, lending and insurance at advantageous rates, this could be a challenge for the largest banks going forward.
In-person success
Consumers in the U.K. rated their banks highly for in-person service, innovation and digital payments. However, banks fall behind the curve in offering mobile check deposit, which would give consumers even more of the independence they reported to prefer.
Where are the rewards
Another opportunity for growth lies in the field of loyalty rewards. Surveyed consumers rated their banks poorly for loyalty and other recognition programs. While this is a less important attribute, according to respondents, it was more important to U.K. customers than it was to banking customers in most other countries.
The study's research method was comprised of 1,000 individual consumer surveys in each focus country. Surveys were conducted online, with individuals aged 18-75 who have a checking or equivalent account with a financial institution, and who have financial decision-making authority within their household. Questions were designed to minimize cross-cultural biases, where feasible; for scalar questions, normalization procedures were used in the analysis to mitigate bias. Surveys also were targeted to meet age and gender demographics for each country.
Free Newsletter Sign-up