Atom continues growth with their third RMBS issue, CBILS lending and new tech roles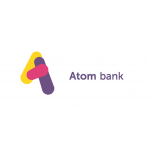 Atom continues growth with their third RMBS issue, CBILS lending and new tech roles
Atom, the UK's first bank built for mobile, completed pricing this week on its third residential mortgage-backed securitisation (RMBS), Elvet Mortgages 2020-1.
Atom have issued a third RMBS (part offered/part retained) backed by £770m of mortgage loans in order to support Atom's continued growth. Atom is a regular RMBS issuer which, alongside its expanding suite of products, provides funding for long term, sustainable growth.
David McCarthy, Chief Finance Officer at Atom bank said: "We're delighted to have completed our third residential mortgage-backed securitisation. Securitisation will continue to be one of the ways we deliver efficient funding for our business, contributing to our overall model of keeping costs low and passing value back to our customers."
Atom has also been very active in supporting businesses through the economic impact of the pandemic.
Edward Twiddy, Chief Customer Officer at Atom bank said: "We've been accepting applications for secured CBILS loans since the start of June through our national network of 200+ independent brokers. We remain one of only a few banks open to new secured business lending under CBILS, and delighted to find strong demand for our simple, transparent and very competitively priced products."
With the completion of a major re-platforming of the bank onto Google's Cloud Platform and the adoption of leading UK fintech Thought Machine as their core banking partner, Atom are also launching a recruitment drive as they prepare to expand their range of products.
Asked what opportunities these new roles will provide, Edward said: "This investment in technology and innovation will make our business more efficient and agile, resulting in a markedly better experience for our customers. For anyone wanting the chance to work with the best banking technology in the world and the most customer-centric bank in the UK, these new roles represent a great opportunity."
To find out more about Atom, visit their website www.atombank.co.uk.
Free Newsletter Sign-up