Helping banks with the omni-channel approach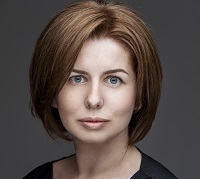 An interview with Katherine Kostereva, bpm'online CEO and Managing Partner.
Financial IT: How would you describe bpm'online?
Katherine Kostereva: Bpm'online is a leading CRM provider that combines marketing, sales and service solutions on a single platform. It offers a robust financial services industry solution. In the last 14 years, bpm'online has gone from being a small shop of just five employees, to being a global leader in process-driven customer relationship management (CRM.) Our offering is used by retail and commercial banks, as well as non-bank lenders.
Financial IT: What do you see as being your competitive edge?
Katherine Kostereva: Our business process management (BPM) platform helps to better manage customer relationships and personalize communication at any touch point. It does this by offering pre-defined processes to manage the complete customer journey – from the initial request for information to continued account maintenance. Bpm'online clients are able to deliver an outstanding customer experience while improving operational efficiency.
Financial IT: Tell us about your clients and the problems that you solve for them.
Katherine Kostereva: We work with a number of banks and financial services companies worldwide.
For our retail banking clients, we optimize their customer journey in part by aligning operations on a single platform where a complete customer view is obtainable.
For corporate banking clients, we work to automate their sales and marketing processes.
Lenders also choose our platform to manage their loan practices. Bpm'online is available via the Cloud or on-premises. It is fully compliant with banking industry regulations.
Financial IT: What are the main trends in the financial industry, as you see them?
Katherine Kostereva: The FinTech industry is booming. Financial service institutions have realized the benefits of new technologies and a lot of trends are gathering momentum.
We at bpm'online still believe that a seamless customer experience across various touch points should be the top strategic initiative – although managers also need to consider the security of data. Recently, PWC's research actually found that 57% of finance industry executives consider Customer Interfaces and Channels their first focus, which was followed by customer need identification. As in other industry verticals, there is also a need for immediate, transparent, and personalized solutions.
We agree with the proposition that an omnichannel approach is one that should be among the top priorities.
Financial IT: How does Cloud computing drive the banking industry? What are the benefits it brings to banks and their customers?
Katherine Kostereva: Cloud computing is driving a revolution in the banking industry. While reluctant at first, banks have realized the benefits it brings.
Most financial companies believe that Cloud computing is essential to their future strategies and are demanding greater connectivity between their banks. Other advantages Cloud computing brings to the banking industry include improved flexibility, scalability and feasibility.
Further, the banks' customers benefit. Banks can serve the customers more rapidly. With better data, it is easier for the clients to track and schedule appointments and to track information from any device.
Financial IT: How does an omnichannel business model lead to seamless customer experience in banking? For instance, what does the customer's journey look like when he/she opens an account?
Katherine Kostereva: A client can communicate with a bank using various channels, but the bank should be able to accumulate the information and deliver a personalized solution via the communication channel that is most preferred by the client. The opening of an account illustrates this. The customer could have been referred via email from a friend and followed a link to the bank's website. The client then decides to open an account. Upon attempting to finalize the opening of the account, the customer is asked to call their local branch to complete the transaction. The customer may be confused and not happy about now having to engage via a different channel. The onus is on the bank to provide a seamless onboarding experience that allows the customer to complete activities on their preferred channel, or direct them to the channel that is best able to assist in his/her request.
Financial IT: What are the most critical challenges and opportunities that most banks see while using the omnichannel business model?
Katherine Kostereva: It's easier to integrate omnichannel capabilities for new banks rather than overhauling a long-term pre-existing infrastructure. Too many banks are overly focused on products rather than clients. Too many banks lack a single master system that can manage all channels: as a result, they are often losing key data.
Further, the movement to omnichannel banking is not a one stage process. It involves changes on many levels and the adoption of many new common standards.
Also, there are often concerns about security-related issues. These arise from the different quality standards and certifications that are required of banks.
Financial IT: What are the main driver of the various changes that are underway?
Katherine Kostereva: The customer is the driver of this transformation. Companies are hurting themselves by not adequately meeting the customer on their preferred channels and leveraging the data they have to provide a better customer experience.
It is this realization that has lead organizations to identify artificial intelligence (AI) as being the technology that has the potential to equip their business for an ever-evolving customer journey.
AI creates organizational efficiencies and more effectively leverages data to provide a personalized customer experience. By not successfully exploiting the latest in AI, businesses do not just sacrifice growth. They may endanger their solvency long term.
This is in the context of a world where technology advancements have leveled the playing field: small and medium size businesses can compete with larger companies, with the result that the need to provide a personalized experience is essential for the separation of an organization from the pack.
The good news is that, according to PWC's research, 97% of CEOs in the financial services industry see innovation as a key priority for growth. I am therefore confident that we are on the verge of a huge transformation in the financial services industry.
Katherine Kostereva is CEO and Managing Partner of Bpm'online. The company offers three products on one platform to connect the dots between marketing, sales and service. The system delivers end-to-end processes to manage the complete customer journey – from lead to order to continued customer service excellence.