Financial IT December Issue 2018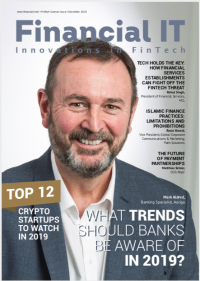 05.12.2018 08:49 am
One of the lead articles in this edition of Financial IT highlights how banks will continue to beexcited about Artificial Intelligence (AI) in 2019. There will be experimentation involving AI.There will be investment in AI. However, mainstream adoption of AI solutions are unlikely. This is partly because the demands of clients are complex and increasingly sophisticated. Chatbots maybe able to reduce costs and boost efficiency, but they are not – yet – able to provide the tailoredcustomer experience that clients are looking for.
We are at the end of the year which brought the second Payments Services Directive (PSD2), the revised Markets in Financial Instruments Directive (MiFID II) and the General Data Protection Regulation (GDPR) to the European Union (EU) and, indeed, the world. Financial institutions and FinTechs have invested heavily to adapt to the new requirements and to exploit the opportunities from Open Banking. However, it is not yet obvious who has made, or will likely make, the greatest gains.
In spite of much excitement, along with a boom and bust in crypto-currency markets, it is
still not clear how what will be the main impact on banks and other financial institutions ofBlockchain technology. One of the contributors to this edition of Financial IT notes how several of Canada's largest banks are collaborating to develop customer identity solutions that are based on Blockchain. This is a good example of how institutions that are naturally competitors can work together to use technology to solve problems. However, the problems have yet to be solved.
And problems still abound. As other contributors to this edition note, only 38% of banking
and securities leaders have a high confidence in their ability to detect and prevent fraud. In 2018,some 53% of customers of United States-based online retailers abandoned transactions before completing their purchases. Financial institutions are still trying to work out how best to leverage client data that is held in legacy systems.
Broadly speaking, two key conclusions can be drawn from all this. One is that, at theintersection of financial services and IT, the hype often exceeds – or differs from – the reality.In the case of AI, the issue appears to be that robots are, for now, better suited to manufacturing than services. New and higher regulation through the EU's Directives and Regulations increaseoperating costs, but also barriers to entry – providing additional advantages to incumbents.
The other conclusion is that it not helpful to think of FinTech in terms of single concepts suchas Blockchain, AI or Open Banking. Rather, it is better see the combination of financial serviceswith IT as a universe in which positive change takes place on dozens of fronts simultaneously.Problems need to be identified. Technological solutions need to be developed. Institutions andFinTechs need to assess whether they will operate independently or collaborate with each other. The new solutions need to be implemented and evaluated. All this takes time. Change often takes place far more gradually than is envisaged.
FinTech Connect 2018, which takes place in London on 5-6, is structured in a way that recognizes this. Events are organized around several broad and, to a certain extent, inter-related themes. The include: digital transformation; IT and infrastructure upgrades; paytech and the cashless society; regtech and compliance; the evolution of insuretech, and fast growth strategies for start-ups.
We wish all participants at FinTech Connect 2018 – as well as our subscribers, advertisers and contributors – all the best for 2019. It may well be that the real impact of the experimentation and collaboration that is currently underway is only obvious in late 2021 – or three years hence.