Quant Network - Converging Blockchain, AI and Cybersecurity
Quant Network - Converging Blockchain, AI and Cybersecurity
18.11.2019 03:36 pm
Financial IT chats with Gilbert Verdian, CEO and Founder of blockchain technology company Quant Network. Tasked with connecting the world's networks to blockchain, Gilbert is building the Internet of Trust by converging blockchain, AI and cybersecurity. Having a keen interest in disruptive technology, Gilbert is the author behind the Blockchain ISO Standard TC307 initiative and is the Chair of the UK's national committee on Blockchain and Distributed Ledger technologies (DLT/1) as well as the Interoperability working group for ISO. He also sits on committees in the Federal Reserve, the EU's Blockchain Observatory, PayUK's Cybersecurity board and UK Government's DLT committees.
He's actively working to advance technology in the areas of AI, Cybersecurity, Blockchain, Fintech & Health.
Financial IT: Just to start off, we would love to hear more about Quant and your background?
Gilbert Verdian (GV): My background has been in Cybersecurity for 20 years. I worked across Government - in Downing St, HM Treasury, the Cabinet Office, the Ministry of Justice, as well as at NSW Health. In the private sector, I have worked at Mastercard, Vocalink, CSC, EY, PwC, BP and HSBC as a CISO, CIO and CTO.
Quant is able to work with different technologies in blockchain. The industry loves blockchain. This technology is able to create new types of products and service offerings and to do so safely and with trust.
However, the problem that everyone has is the dilemma: which blockchain technology to use?. Will they be locked into a particular blockchain technology or vendor? Will they have the right skills to implement blockchain. Subsequently, we've simplified the adoption and implementation of any blockchain, allowing any Financial Services Institution and enterprise to use different types of blockchain with just three lengths of code - and to benefit from the combined features of different technologies.
We are working across financial infrastructure with payments and settlement. We are collaborating with Capital Markets to move digital assets and tokenised securities in the US. Further, we are starting work with Central Banks across digital assets. We're in the middle of shaping the financial system of the future.
Financial IT: What makes Quant unique when it is compared other similar platforms?
GV: Our approach and the way we've engineered our technology leverages our heritage and experience in cybersecurity, government and financial services. We understand that the most important thing about blockchain is that it should be properly implemented because of compliance, security and the risk around it. Quant simplifies how organisations take advantage of all blockchains, so they can focus on operating their businesses and unlocking the benefits that this technology presents.
We've developed an operating system approach which provides a platform for organisations to safely and easily work with multiple blockchains, even allowing internal blockchains, within their own environment, to safely connect with any external blockchain networks.
We are unique because we have already inter-connected 11 blockchains including internal enterprise blockchains.
Financial IT: What is next for Quant?
GV: We have just launched the Overledger Network, a 'network of networks' for a hyper-connected world, solving the problem of inter-operability for consortia and trade finance. The network of networks allows enterprises and organisations to host their own secure dedicated gateways, which can then connect securely to distributed systems, permissioned networks, permissionless networks, ecosystems, consortia and other distributed technologies. This provides participants with market access to other networks to trade, create new products, develop revenue streams and find new customers.
That's how society operates and by connecting enterprises and financial institutions all together, we're going to create openness to derive new types of value.
Quant Network is a technology provider enabling trusted digital interaction, helping create a secure digital future to the benefit of enterprises, regulators, governments, and individuals. Recognised for having solved inter-operability through the creation of the world's first blockchain operating system Overledger, Quant Network is leading the way for innovation and blockchain adoption across enterprise. Headquartered in London, UK, Quant Network is committed to building an internet people can trust. www.quant.network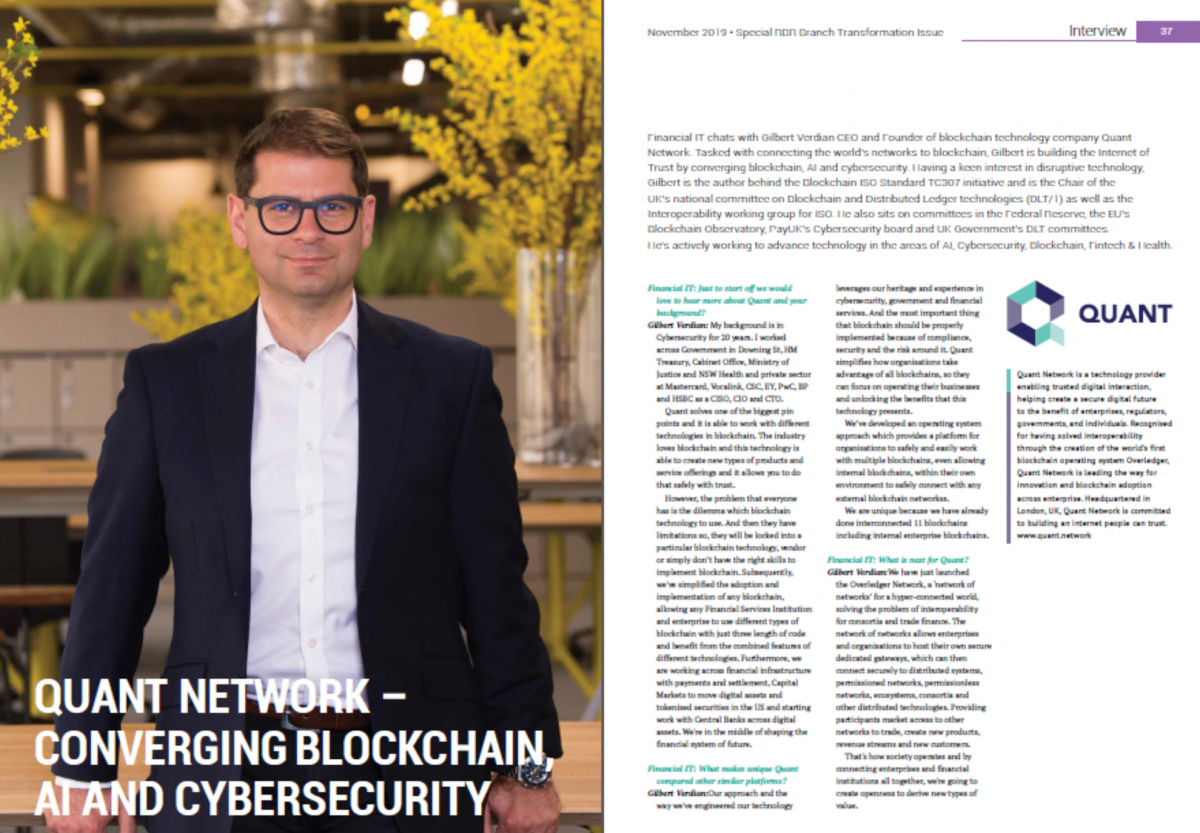 This interview originally appeared in Financial IT November Issue 2019.
More Interviews
Lawyer Imran Ahmad, a partner at Toronto's Blake, Cassels & Graydon LLP, specializes in cybersecurity, privacy and technology law. He's also the author of a preparation and response handbook entitled Cybersecurity in Canada: A Guide to Best Practices, Planning, and Management. A breach lawyer and coach, he helps his clients develop and... Read more »
HeimdalTM Security chief executive Morten Kjaersgaard has stated that cybercrime is already a profession. In an exclusive interview with Finbold.com, Kjaersgaard stated that tracking developments in the cybercrime sector will be a major trend in the coming year. During the interview, the CEO pointed out the importance... Read more »
Free Newsletter Sign-up