Aiven - Tailoring Data Infrastructure Systems
Aiven - Tailoring Data Infrastructure Systems
17.05.2019 11:57 am
Oskari Saarenmaa (OS) is the CEO and one of the founders of Aiven, a next-generation managed cloud services company offering the best Open Source database and messaging services to businesses around the world.
He has previously founded and managed a couple of software development agencies and worked as a software architect designing secure, large-scale database systems. He studied on and off at the University of Helsinki, Department of Computer Science.
Financial IT: Could you please tell us more about Aiven?
OS: Aiven is a cloud technology startup focusing on the best open source data infrastructure systems. This includes databases like Apache Cassandra and PostgreSQL and streaming systems like Apache Kafka. The company was founded by a four-person team of database and scalability experts who had been solving scalability and deployment issues around open source databases for a long time for various enterprises. Going forward, we wanted to productize our expertise so others could work on their applications and core business rather than fight infrastructure issues and we wanted to do this in the cloud which we saw as the default deployment platform of future applications.
Financial IT: How did you get into the Cloud Platform? What keeps you in the field?
OS: Cloud allows turning operations into a software development process instead of a manufacturing process and provides much more flexibility when you don't have to plan for and procure hardware in advance. We had been frustrated with some past projects where we had to decide on hardware environments a year or more ahead of the actual software deployment and ended up using too much, too little or wrong kind of hardware for the applications.
A lot of enterprises are still working in the on-premises setting, but we see cloud being the platform where all future applications will be running. In some industries, it may take a few or more years to get there, but everyone's on their way to the cloud. We want to make sure we're their first choice there.
Financial IT: Why customers should choose Aiven? What is unique about it?
OS: The most important reason is that with Aiven, a customer gets access to a stable, full-featured, production-grade system within minutes. This is a key requirement for all use cases, but surprisingly few services are able to deliver this, as they've been originally built for a different environment. Operating a cloud platform is very different from manually supporting a static on-premises environment, and many of the techniques and tools don't work at the cloud scale. Aiven has been built for the cloud from ground up.
Also, everything a customer's application accesses is based on open source software. This means that there's no hard lock-in to the service, and in case we fail to deliver our promise of great service it's possible to take your data and move it elsewhere running the exact same software that was running in Aiven. Some other companies in the industry have started to shift away from true open source licenses, but we're doubling down on our commitment and contributions to open source.
Financial IT: What are the key sources of strong performance?
OS: Because Aiven is built from the ground up to integrate with the cloud platforms as well as the logical layer of the database and streaming systems, we're able to play the strengths of each system instead of building for the lowest common denominator. This allows us to make the latest and greatest features of the underlying cloud infrastructure - like NVMe storage devices or new network adapters - immediately available for our customers.
Financial IT: What are the trends and enhancements that we should expect? What is the forecast for the next year?
OS: We're expecting more and more companies to build their next applications and platforms for the cloud, and they'll be using increasingly more the new, cloud-native, distributed systems to do that. This is a part of the general trend where everyone's moving up the stack and looking to sharpen their focus on their own core business. In Aiven this means that we'll offer more integrated solutions on top of the components currently available on our platform to allow our customers to get more of their work is done without having to write custom code for that.
More Interviews
Director, Product Management and Strategic Initiatives at Fiserv
Financial IT speaks to Trevor LaFleche Director, Product Management, Strategic Initiatives at Fiserv Financial IT: Trevor, could you please tell us more about Fiserv and about your background? Trevor LaFleche: First of all, let me start with Fiserv. Fiserv is one of the world's largest payments and financial technology providers. We have the... Read more »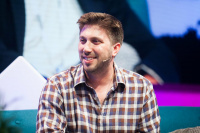 Financial IT speaks to Daniel Seal, Founder & CEO at Unbound. Daniel is a serial entrepreneur and the Founder & CEO of Unbound which bridges the gap between entrepreneurs, corporate business and governments to fuel a digital future. Daniel is a mentor & advisor to several leading startup accelerators around the... Read more »
Free Newsletter Sign-up