The Growing Demand for Lawyers with Significant Fintech Experience
The Growing Demand for Lawyers with Significant Fintech Experience
14.01.2020 09:45 am
The growing influence of technology on how people go about their day-to-day lives has consequently changed how many industries operate. These days, industries are expected to be innovative and up-to-date if they wish to thrive and flourish, and the legal industry is no exception. This is a two-way street: as the legal industry requires new technology to further advance the way they deliver legal services in order to become even more efficient. In turn tech companies have also come to rely on the services that the legal industry provides to ensure that they don't violate the law or any industry regulations.

Although financial technology is still yet to be considered as a practice area, the current innovations and disruptive technologies that are related to fintech are encouraging lawyers to learn a thing or two about it. Medium noted that right off the bat, fintech companies must seek legal advice. Although funds may be limited at the start, it is essential to consult with lawyers to be able to get a better grasp of the nature of the work and leverage this when it comes to deals and contracts. In addition, it is beneficial to have a counsel that will think about compliance and continue to improve all legal aspects as the company continues to grow.

Fintech encompasses a broad landscape of businesses, and with people adapting to new ways to transact and handle their finances, financial technology is expected to grow significantly in the years to come. As such, Forbes noted that those in the fintech industry must get used to dealing with regulations that will become a daily norm. As new laws and policies continue to be drafted as an answer to new technology, there is a high demand for lawyers who are knowledgeable in fintech. Not only will they keep fintech companies up-to-date with the latest regulations and policies, but they will also help fintech companies comply with the law to ensure a smooth business progression. Special Counsel notes that providing legal solutions for specific challenges often requires lawyers who understand the needs of tomorrow. This is even truer for the field of fintech, as its relative youth means that changes within the industry happen often and happen quickly. It pays to have a legal team that is skilled in understanding and making sense of innovations, as well as the basic principles that drive the industry.

Aside from keeping fintech companies up-to-date with the regulations and policies both at a national and international level, lawyers with fintech experience can help fintech companies know which regulatory offices govern certain aspects of the industry. As mentioned in our post, "Growth Programme For Global Fintechs Launched By International Law Firm" the primary function of legal counsel is to help fintech companies make sense of complex regulatory policies and legislative issues. With proper legal counsel, fintech companies are able to determine which aspects of their industry they must comply with.

As with any other industry, it is crucial to have a lawyer or legal counsel that will help companies comply and abide with the instituted laws and policies. As the fintech industry continues to flourish and become an all-encompassing sector, the demand for legal professionals with tech experience will continue to grow.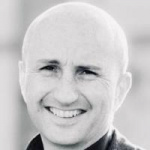 Ian Johnson Marqeta
These findings show that even before COVID-19 struck, digital banking was increasing exponentially. As more people adopt online and mobile banking, the demand for greater personalisation, flexibility and value that consumers expect from their Read more »
Free Newsletter Sign-up