Who said Fintech is dead? Q1 sees $5.7bn invested
Chris Skinner
Chairman at The Financial Services Club
Who said Fintech is dead? Q1 sees $5.7bn invested
31.05.2016 10:00 am
I was just sent a press pre-release copy of The Pulse of Fintech, the quarterly global report on Fintech VC trends published jointly by KPMG International and CB Insights. The findings are quite interesting this quarter and show that, after a significant pullback in funding in Q4 2015, mega funding rounds have lifted quarterly investment into VC-backed fintech companies by over 150 percent in the first quarter of 2016.
Key highlights from the Pulse of Fintech include:
Q1 2016 saw a big rebound in funding to the Fintech sector, with total investment in fintech companies hitting US$5.7 billion. Globally, VC-backed fintech companies drew US$4.9 billion in funding, rising from just US$1.9B in Q4'15.
VC-backed deal activity rose dramatically quarter over quarter. Q4 2015 saw Fintech deal activity fall to the lowest point since Q2 2014. This drop reversed course in a big way in Q1 2016 as VC-backed fintech deals rose to a new quarterly high of 218 globally.
Larger deals spurred fintech funding growth in Q1 2016. Q1 2016 saw thirteen $50M+ rounds to VC-backed Fintech companies, a slight rise from the ten $50M+ rounds in Q4 2015, but a drop from the eighteen mega-rounds in Q1 2015.
Asia saw funding to VC-backed Fintech companies jump to US$2.6B in Q1 from just US$0.5B in Q4. This dramatic rise came on the back of the $1B+ mega-rounds to JD Finance and Lu.Com.
North America sees funding bounce back
North America saw both fintech funding and deals rebound following a major drop in Q4 2015, as VC-backed fintech companies raised US$1.8B across 128 deals, an increase of 80 percent in funding quarter-over-quarter. Deal activity to VC-backed fintech companies in North America is on pace to reach a new high in 2016 at the current run rate, as the 128 fintech deals registered over the three-month period was the largest quarterly total since Q2 2015.
Chinese mega-rounds propel Asia fintech funding
Following a drop off in Q4 2015, fintech investment in Asia reversed course in Q1 2016 to hit a new high of US$2.6B. China accounted for $2.4B of Asia fintech funding and 49% of fintech funding across all geographies, primarily as a result of $1B+ funding rounds to JD Finance and Lu.com.
Europe fintech deals rise; no spike in funding
Europe saw VC-backed fintech deals reach a five-quarter high, rising from 37 in Q4 2015 to 47 in Q1 2016. European Fintech funding remained almost level with Q4 2015's total at US$0.3B. UK funding rounds to WorldRemit and LendInvest pushed UK funding to account for over half of Europe's fintech funding total.
Corporates participate in over 20 percent of deals for fifth straight quarter
Corporate investors continue to play a large role in the fintech ecosystem, with global deals to VC-backed Fintech companies standing at 24%+ in three of the past five quarters. Of note, Europe saw an upswing in corporate Fintech investment during Q1 2016 as corporate participation in deals to VC-backed fintech companies rose from 8% in Q4 2015 to 21% in Q1 2016.
KPMG and CB Insights will discuss findings from the Pulse of Fintech report, investment trends and key players in fintech during a live webinar on 31 May, 2016 at 11:00am EDT [register here] and you can find the full report over here.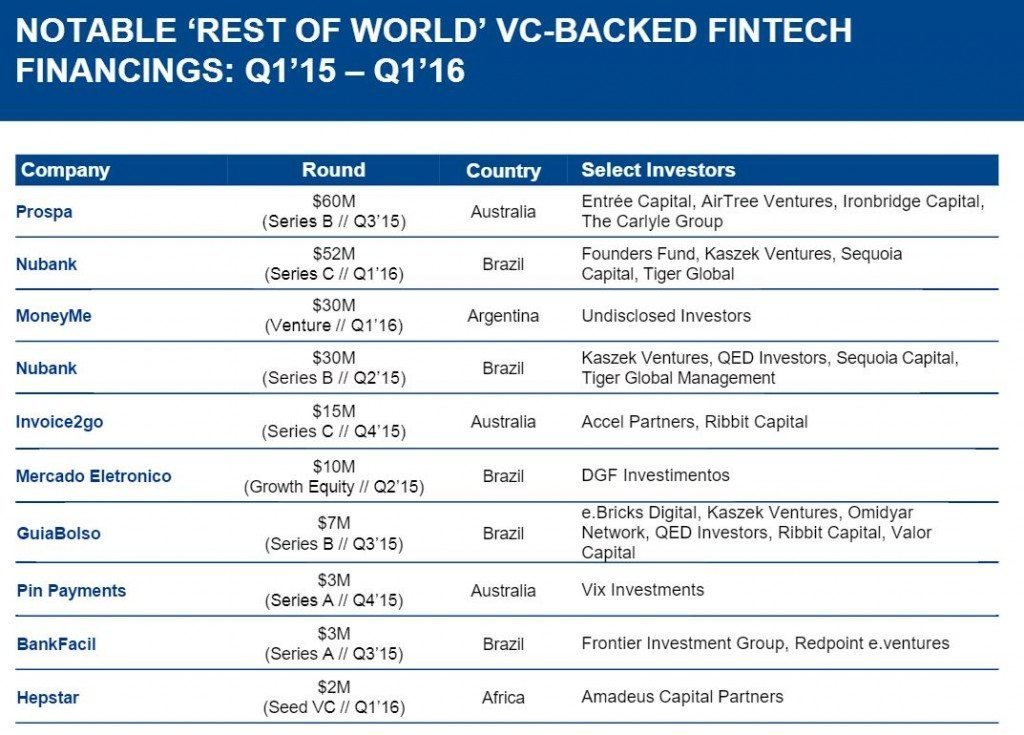 Otabek Nuritdinov Safenetpay
Investors, both private and institutional, are excited about investing in fintechs that are in the payments services business. What are the issues that really should matter to you, as a client? In 2019, institutional investors Read more »
Huw Kwon Cognizant
Most, if not all, financial institutions are exploring how the range of new and emerging technologies collectively known as artificial intelligence (AI) can improve their performance across a range of activities and processes.  AI offers methods and Read more »
Free Newsletter Sign-up