Banks Must Innovate Internally to Keep Pace with Fintechs
Thilo Rockmann
Chairman at LzLabs
Banks Must Innovate Internally to Keep Pace with Fintechs
07.04.2017 11:30 am
PwC yesterday released its report 'Redrawing the lines: FinTech's growing influence on Financial Services' revealing that over 80% of incumbent banks believe business is at risk to innovators such as FinTech startups – prompting the need for a surge of internal innovation in the incumbents, as well as collaboration with the FinTech community.
Here is a comment from Thilo Rockmann, Chairman of LzLabs, on the challenges that banks will face in keeping pace with FinTechs if they fail to address legacy technology internally.
"PwC's findings that 88% of incumbent banks are worried they're losing revenue to FinTech start-ups comes as no surprise. The challenge for many, when attempting to enhance digital financial services, is that the longer established portion of the financial industry remains awash with legacy systems born during the first wave of digitalisation in the finance industry of the 1960s and 1970s. These systems continue to support business models built well before the internet, and when consumer banking was provided by branches and ATMs.
The fact that 77% plan to increase internal innovation is of course encouraging, highlighting that most incumbent banks understand that surviving in this environment cannot happen purely through collaboration, but on the modernisation of legacy IT systems that continue to drain funds and stifle innovation from within. Established banks often give the perception that they are set in their ways, and collaborating with FinTech companies is welcome, but the easy way out, and they will soon see their footprint fade away. To truly remain competitive and agile, they must modernise."
Shuvo G. Roy Mphasis
Ground control and Captain Tom When veteran Captain Tom Moore decided to walk one hundred laps of his garden before his 100th birthday to raise funds to support NHS heroes battling Covid-19 from the frontline, he never imagined that he would Read more »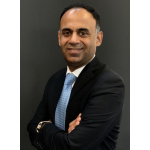 Amit Dua SunTec Group
With the inevitable tribulation and market regulations resulting from the pandemic, one thing is certain - the global banking landscape will face a lot more uncertainty. In the meantime, banks have been called on to help boost the economy – to Read more »
Free Newsletter Sign-up