Know Me, Consult Me, Take Care of Me: Banks Need to Raise the Bar for Financial Advice
Martin Haering
Chief Marketing Officer at Finastra
Know Me, Consult Me, Take Care of Me: Banks Need to Raise the Bar for Financial Advice
04.04.2019 08:00 am
Continuing my blog series looking at Accenture's 2019 banking trends, this time I'm exploring how improved adoption of cloud and data analytics will enable banks to raise the bar in the way they deliver retail financial advice.
We've seen some exciting advancements in banking over the past few years with regard to digital assistants. With many banks now allowing customers to interact with Siri, Alexa and others, customers can check their balance, review spending and even make payments. These services are often underpinned by a basic financial advice offering, which tracks spending habits and savings goals, allowing digital assistants to make recommendations or predictions based on this data.
While these offerings have fast become table stakes, with Accenture noting them being akin to 'parental scolding', many banks are still missing the mark when it comes to offering true financial advice. As we head deeper into 2019, and conversations around cloud, data and analytics continue to progress, what can we expect the future of financial advice to look like?
A new class of digital advice
To answer this question, we must first look at a bank's customer and what they want from their bank. All people really want is to feel that their best interests are being catered for – meaning personalized, tailored advice that guides them toward their financial goals. But the financial advice available today isn't entirely fulfilling this need; it's often merely summarising historical data, and giving recommendations based on previous financial decisions.
The future of financial advice needs to focus on true financial wellness. This is something that I think will start to emerge as 2019 progresses. By aggregating the wealth of customer data that banks have at their fingertips, they can not only see what a customer is spending, but also what other individuals are spending. Using this data, in association with non-banking data, banks will be able to make hyper-relevant financial recommendations beyond basic spending habits. This could come in the form of notifying customers if their peers are getting better rates on their utilities or financing offers and suggesting changes to improve their current financial situation.
With Open Banking and PSD2, the amount of data available to banks has the potential to increase, meaning banks will be even better placed to improve the financial lives of their customers and their overall financial wellness. But to achieve this goal, banks will need to carefully consider their associated cloud, data and analytics strategy.
Head in the clouds
The business case for cloud is a debate that goes back several years and has fundamentally evolved as business demands have changed. More recently, the dial has shifted from looking at the cost and scalability benefits of the cloud, to its data and analytics capabilities. In fact, a recent IDG survey found that 45% of organizations plan to migrate their data warehouse and data analytics applications to the cloud in the next 12 months to three years. With its limitless storage capabilities and data analytics tools, banks should be using cloud to deliver sound financial advice to make their customers' financial lives better and more rewarding.
Through effective data collection and analysis, banks will be able to create much broader financial profiles of their customers. Financial recommendations would then not just draw on historical data, but also previous and existing habits to give predictive, and even better, prescriptive advice.
If banks delight their customers with unique and personalised experiences, whilst also steering them toward better financial health, they can only expect to reap the benefits of long-term customer relationships.
But banks will need to work hard if they are to secure a competitive advantage in the financial advice space. With commercial cloud offerings now so widely available, Accenture predicts we will soon be in a world where everyone will have access to the same 'toolbox' and potential for success. In this world, the winners won't be simply those who leverage the cloud, but those using it to create unique experiences for their customers – drawing actionable insights from data to provide unique financial advice.
This is something I personally believe will be a competitive differentiator for banks moving forward, with customer experience being the defining quality of the leading banks. In the coming months, banks will need to start thinking differently about the role they play in their customers' lives. Instead of simply providing products with basic financial functionality, banks must take advantage of data to reinvent their services and be seen as trusted advisors by their customers.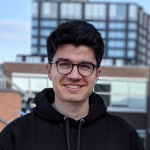 Dr Nicolai Baldin Synthesized
Collecting and collating customer information in order to create new, or enhanced products and services is a strategy as old as business itself, but the process involved has always been a huge time and resource drain for companies. Yet in the Read more »
Matthew Phillips Diebold Nixdorf
The future of banking could be closer than we think. As the industry continues to build the bridges between the financial services of today and the financial services of tomorrow, the pockets of innovation coming to the fore are impressive. From AI Read more »
Free Newsletter Sign-up