Life Insurance Snapshot: 10 Industry Trends Shaping The Landscape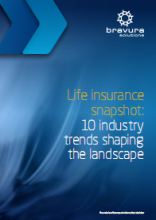 Darren Stevens, Director at Bravura Solutions
While the life insurance industry continues to experience growth, there is an inherent fragility in a sector being weighed down by its legacy business. A complex web of antiquated technology systems bows each time a new product is brought to market or a regulatory change needs to be accommodated.
We are, however, standing at the precipice of a technological revolution in this space.
Players are taking steps to modernise, consolidate and rationalise IT systems, and there is rising popularity of alternative distribution channels, opening up new ways to engage with consumers.
In the face of an aging population and a burgeoning wave of demand for innovative and targeted products, there are a host of opportunities for those that take the vital steps towards modernisation.
In this paper we have identifed ten major industry trends around operations, technology, product development, consumer behaviour and overall innovation, and asses their impact and the role each plays in the future of the life insurance sector.
Steady growth
Challenging legacy rationalisation
Business Process Outsourcing (BPO)
Regulatory and capital pressures
D2C, afliation marketing and big data
Poor fnancial performance
Little true product development
Competition with platforms
Online support and mobility
Rise of niche players
- See more at: http://www.financialit.net/white-paper/life-insurance-snapshot--10-industry-trends-shaping-the-landscape/94#sthash.SjVdqjhn.dpuf
Other White Papers