Instituting a Funds Transfer Pricing (FTP) - driven Decision Enablement Framework in Banks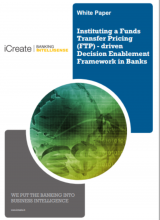 Worldwide, banks operate in a highly complex and competitive landscape. The boundaries of ompetition have gradually extended from peer banks to insurance companies, investment companies, mortgage companies and across multiple geographies. With growing penetration of the internet and social media, consumers have become more knowledgeable and are demanding competitive rates, along with diminishing brand loyalty.
Also, recent upheavals in the global financial sector have exacerbated the situation in terms of stringent regulatory compliances and restrictions. Capital requirements are increasing and achieving revenue growth continues to be a challenge amidst weak macro-economic conditions. These forces have led to eroding margins for banks and are severely testing their ability to achieve sustainable profitability. In fact the situation actually warrants banks to review their conventional methodology of measuring and reporting business performance.
Other White Papers