Are Insurtechs Revolutionising the Insurance Claims Process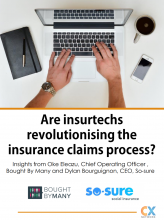 A shift is underway in the insurance industry, insurtech companies are raising the bar for the industry's giants as they pave the way for a new generation of insurance which is highly specialised and tailored to the customer needs.
Unhindered by strict operating systems these companies are pushing the boundaries when it comes to insurance and revolutionising the claims process through the use of technology and new customer-centric strategies.
Ahead of the Claims Transformation Forum 2017, CX Network sat down with Oke Eleazu, Chief Operating Officer , Bought by many and Dylan Bourguignon, CEO, So-sure to discuss their thoughts on how insurtechs are changing the face of insurance and the claims process.
Read full article
Other Version Control