Virtusa's Trend Almanac 2019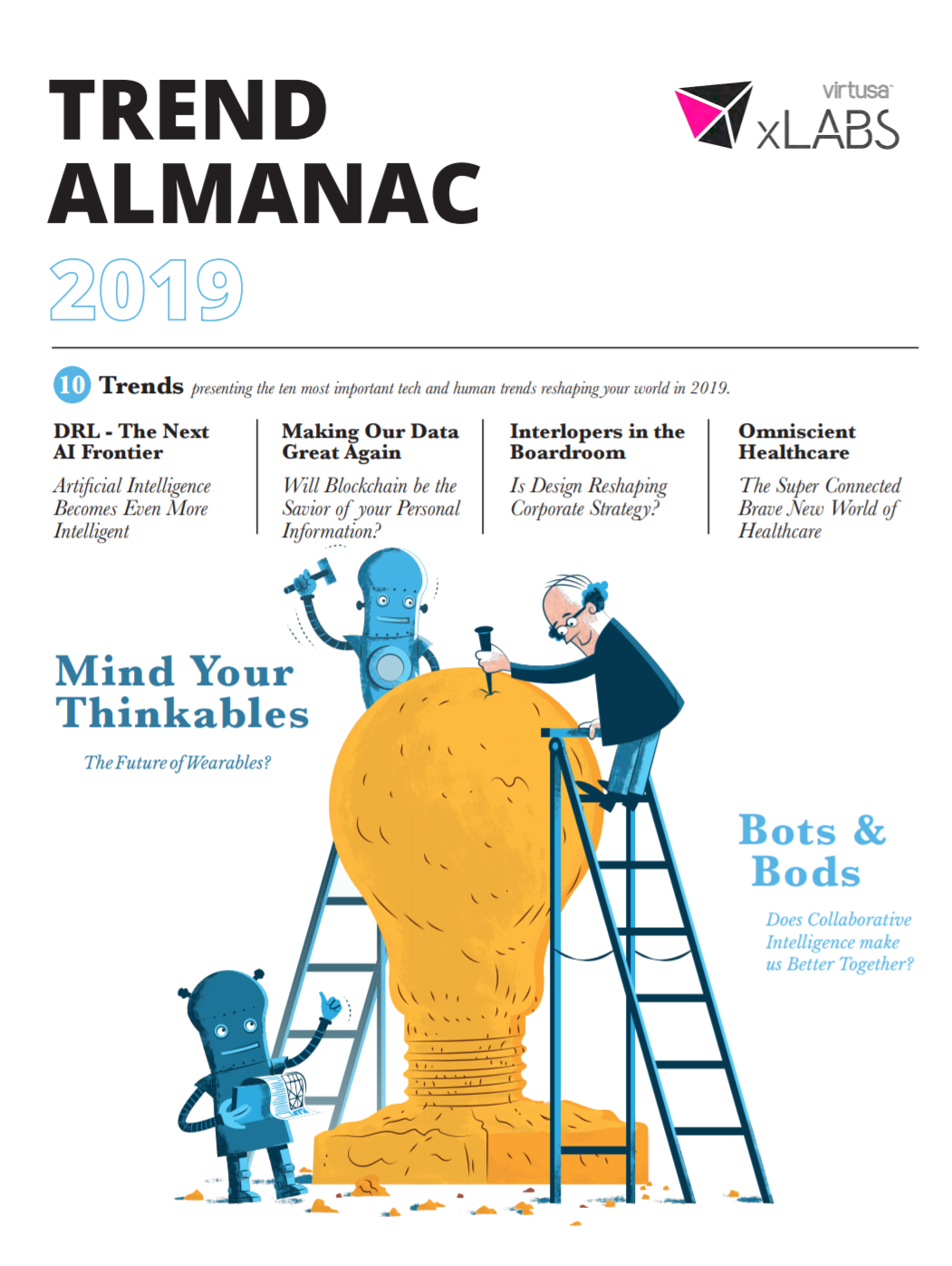 Reports

26.02.2019

08:54 am
Welcome to Virtusa xLabs' second Trend Almanac. It goes without saying that a lot has changed in the year since we published our predictions for 2018. Looking back, our hit rate was fairly good. We did see increased interest in the ethical aspects of AI. Over the past year, we have noticed that our conversations with tech and business stakeholders moved beyond how to setup platforms and access the right datasets to consider how biases could end up constraining insight or elicit claims of prejudicial treatment.
The impact of some of the more left-field predictions that we identified in our last report have proven trickier to evaluate. Often emerging trends seem to have great potential but turn out to be slow burners. They may be strong technologies looking for killer use cases. Mixed Reality, Augmented Reality and Virtual Reality are cases in point, continuing to appear in tech vendors promotional material, but really featuring more on kids' Christmas wish lists than on CEOs' priority lists.
So, we now come to this year's predictions. The experts in our lab have pondered, wrangled with and, in some cases have had spirited debates about, the trends in their subject areas that will have the greatest impact on the world in the short-term. Again, we have considered tech and human factors in our trend evaluation as we know that value is only created at the intersection of emerging technology and people's evolving needs, behaviors and attitudes.
This year we see new regulations adding to the moment of the Open Banking movement. But for financial services companies, compliance is now table stakes, and many are looking at the high cost of compliance and asking how they can generate additional value from their investments. This will mean that Open Banking conversations will shift their focus away from box ticking compliance to fostering out-of-the-box innovation beyond the realm of regtech.
AI has become a ubiquitous topic, materializing on even the most conservative companies' roadmaps in some format. In our AI chapter we look at how Deep Reinforcement Learning has graduated from getting high scores on Space Invaders to generating insight and real business value. The release of new developer frameworks is pushing DLR into the mainstream, bringing us closer to a world in which systems that can learn and act effectively without supervision.
We also look at exciting developments in the health sector. Alongside the rise of devices that amass teraflops of data, monitoring our existence at the cellular level, heath service providers are also leveraging emerging technologies to create a more joined-up experience, whilst removing friction from notoriously labyrinthine systems. Blockchain is being applied to the knotty problem of Provider Data Management, helping patients to access the most suitable (qualified) physicians and reducing the cycle time to verify and execute payment to medical practitioners. If this works, the health industry in the US stands to claw back much of the $2.1 billion it currently spends on data admin, which, in the long-run, could make healthcare more affordable.
We hope that you find this year's Almanac provocative and, hopefully, a little inspiring. It is important to see these predictions less as edicts from infallible industry experts, and more as ideas to explore and challenge. In doing so, we hope that you'll identify at least one new focus area for your 2020 innovation roadmap
Please fill up these fields in order to read the publication.