Verizon 2017 Payment Security Report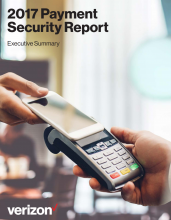 Does payment security matter?
Ask yourself a simple question: would you be more likely or less likely to do business with a company that has been the victim of a data breach? Few of us would say more likely. Payment card security matters.
And the penalties for taking inadequate precautions are about to get worse for many organizations. Any company that does business in the EU will soon be subject to the new General Data Protection Regulation (GDPR). This includes provision for fines for failing to protect personal information—which includes payment card data1 —of up to €20M or 4% of turnover, whichever's greater2.
Despite the dangers, our research shows that while PCI DSS compliance is improving, even among the companies that pass validation, nearly half fall out of compliance within a year—and many much sooner.
Are you taking payment security seriously enough?
Download report here
Other Reports