ICC RBC MENA confirms its participation in GTDW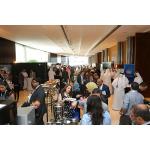 ICC RBC MENA confirms its participation in GTDW
The ICC Banking Commission, the rule-making body for the world's banking industry, through its regional representatives, has announced a partnership with Global Trade Development Week (GTDW), which will be held in Dubai from 27-29 October.
ICC RBC MENA, which is represented by the Dubai Chamber of Commerce and Industry, will participate in GTDW, which is organised in partnership with UAE Ministry of Economy.
GTDW is an annual gathering of 1000 high-level representatives from government and the private sector, coming to Dubai from over 100 countries.
Hamad Buamim, President and CEO, Dubai Chamber, said, "The ICC RBC MENA is helping to increase cooperation and developments across region's finance sector. Its scope covers 19 countries, with Dubai firmly positioned as MENA's business hub and gateway to Africa for international trade, banking and finance. Since its establishment, the ICC RBC MENA has grown to include over 100 experts in trade finance and it has organised several leading events for the banking profession. Dubai Chamber's role is to provide regional coordination and the promotion and organisation of events, and we are delighted to be participating in GTDW this year and look forward to the networking opportunities and professional insight this conference will bring."
Explaining the importance of the partnership, Andrew Keable Co-CEO of KW Group, the organisers of GTDW said, "The ICC is the most influential rule-making body for the banking industry. Access to trade finance is crucial for the development of international trade and is a key focus for GTDW. The Global Trade Finance and Industrial Development Summit, one of the six summits held at GTDW is attended by government and business leaders driving world trade who are keen to further understand ICC's role in shaping global banking."
"In addition to our shared goals the ICC RBC MENA and GTDW are both hosted in the UAE, making it even more imperative that our two organisations collaborate", adds Andrew Keable. The ICC RBC MENA was established in 2013 in partnership with the Dubai Chamber of Commerce and Industry. As part of a major initiative to extend its regional reach, the ICC Banking Commission chose Dubai to be the location of its primary regional hub for the Middle East and as gateway to Africa for international trade, banking and finance.
The ICC Banking Commission the largest commission of the ICC, the world business organisation produces universally accepted rules and guidelines for international banking practice. ICC rules on documentary credits are the most successful privately drafted rules for trade ever developed, serving as the basis of USD2 trillion trade transactions a year. The ICC Banking Commission helps policymakers and standard setters to translate their vision into concrete programmes and regulations to enhance business practices throughout the world.
Free Newsletter Sign-up