Numerix Named Analytics Vendor of the Year in the 2017 Global Capital Americas Derivatives Awards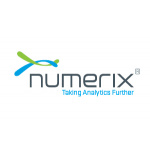 Numerix Named Analytics Vendor of the Year in the 2017 Global Capital Americas Derivatives Awards
Numerix, the leader in risk technology today is proud to announce it's been recognized with two prestigious honors in this year's Global Capital Americas Derivatives awards. Jim Jockle, CMO of Numerix accepted the awards for Analytics Vendor of the Year and Best Risk Management, Pricing and Valuation solution on behalf of the company at the gala dinner hosted by Global Capital on May 25th in New York City.
Over the past year, Numerix introduced a more robust UI and application framework built on top of its real-time platform for pricing and risk analysis, Numerix Oneview. As many institutions have unique workflow operations in terms of how they tackle business requirements, software solutions must be designed to expose different elements of a technology architecture specific to the use case an end user wants to define, or the business challenge they wanted to solve. This prompted Numerix to embrace more of a microservices approach where elements of the Numerix Oneview architecture have been decoupled to give greater flexibility. This has opened a range of new opportunities for the Numerix client base.
"As we've grown from our origins as a pricing library company, we've never forgotten our analytics foundation, which remains our key differentiator. Today, we've solidified our place amongst the most dynamic trading platform technology providers. This is not only because of our analytics DNA, but due to the new technologies and flexible tools we've leveraged that enable clients to utilize different elements of our technology stack in unique ways specific to their business needs," said Steve O'Hanlon, Chief Executive Officer of Numerix. "This has introduced new functionality to our clients both through the application level and through the direct interaction with elements of the architecture."
Numerix has also embraced market standard domain scripting languages like Python to be able to provide interfaces and empower end users to interact with the analytics in very specific, bespoke ways. This has enabled users to leverage the defined user experience of Numerix Oneview alongside their customized workflow, in addition to the greater flexibility and diverse applicability of Python extensions.
O'Hanlon concludes: "Our goal is to help financial services users solve business problems, and our overall business services focus – with business user workflow and standardized UI technologies, has enabled us to quickly adapt our technology to end user workflows for their own business needs. We're very proud of this award and thank Global Capital for selecting us as the vendor solution that has most demonstrated innovation in analytics and technology developments."
Free Newsletter Sign-up