Numerix Included in Chartis RiskTech100 2017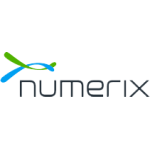 Numerix Included in Chartis RiskTech100 2017
Numerix, the leader in risk financial technology today announces its inclusion in the Chartis RiskTech100 2017, the most comprehensive study of the world's most significant risk technology companies.
Numerix ranked #11, rising four spots over last year. Numerix also took home two awards for Pricing & Valuation and Strategy.
"The Chartis category for Strategy underscores a number of important components, including the ability to execute upon a dynamic growth strategy that includes both product and technology. In 2016 Numerix took this to a new level – thinking differently about all aspects of its business," said CEO, Steven O'Hanlon. "Embracing a digital culture, learning from and listening to customers in terms of business problem and the unique transformations they're undergoing – from an IT modernization, architecture and enterprise software perspective has been of the utmost importance."
Central to Numerix' success has been the confident pivot of its corporate and product brands to align with a "Technology First" vision.
Over the past year, Numerix has embraced new technologies to meet the evolving needs of the market including a deep exploration of new database technologies, No SQL and Array databases for real time results, rapid development environments like Python and new mathematical approaches such as adjoint algorithmic differentiation (AAD). Numerix has also made new advancements in its utilization of in-memory data grids, graphical processing units (GPUs), cloud and SaaS solutions as well as vectorization to achieve high performance results.
O'Hanlon continues: "Where in the past we've be solely recognized as a pricing and risk analytics provider – in 2016 we solidified ourselves as an enterprise minded FinTech company providing powerful, scalable, functionally rich solutions that can make a difference today, and scale to meet future needs. I'm proud to be part of this impressive list and thank our customers and employees for helping us to get here."
"Numerix continues, for yet another year, to keep ahead of the rapid changes in derivatives markets structure and regulation through effective quantitative and technology R&D within their pricing and analytics framework. Their future vision, and ability to execute on it today, are providing a scalable, growth strategy that radically extends their integrated products, technologies and addressable market-places," said Peyman Mestchian, Managing Partner at Chartis Research.
Free Newsletter Sign-up