Zopa Closes in on £130m Capital Injection for Bank Push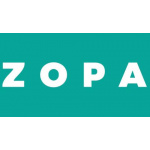 Zopa Closes in on £130m Capital Injection for Bank Push
UK peer-to-peer lending outfit Zopa is set to secure £130 million in funding, enabling it to meet regulatory capital requirements for its foray into banking.
As first reported by Sky News, an entity linked to IAG Capital Partners, a US-based fund, and its UK investment vehicle Silverstripe is on the verge of taking a majority stake in Zopa.

The expected funding comes just days before Zopa's banking license-with-restrictions expires a year after being granted, helping it meet capital requirements.

A P2P lending pioneer, Zopa decided three years ago to branch out into more traditional banking, joining the gaggle of digital challengers - including Starling, Monzo and Atom - to recently enter the UK market.

It received a restricted UK banking license in December last year after picking up £60 million in funding for the build-out, paving the way for the peer-to-peer lending pioneer to launch a brand-new suite of financial products built on proprietary technology.

In November it began a limited one-month beta test of its first fixed-term savings account with 200 prospective customers.

According to Sky News, the new funding is at a "steep discount" on the 2018 round, reflecting the importance of securing the banking license.
Free Newsletter Sign-up