Right Networks Welcomes Joel Hughes as Chief Operating Officer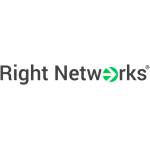 Right Networks Welcomes Joel Hughes as Chief Operating Officer
Right Networks Founder and Chief Executive Officer John Farrer announced today that Joel Hughes has joined the organization as Chief Operating Officer. Right Networks, a premier provider of QuickBooks hosting to accountants and small to medium-sized businesses, has grown an average of 41.5% over the last three years.
In his role as Chief Operating Officer, Hughes will report to the CEO and serve as a member of the company's leadership team. Hughes will be responsible for scaling the organization to maintain the company's strong growth rates while leading day-to-day operations.
"We're excited to have Joel join the team at Right Networks as we scale our operations to help more accountants, bookkeepers and small businesses move to the cloud," said Farrer. "His expertise will be invaluable as we embark on our next phase of growth."
Having founded and led the success of several technology companies, Hughes brings solid executive leadership skills and strategic insight to Right Networks. He recently served as SVP of Emerging Businesses at Constant Contact, the leading marketing advisor to small businesses worldwide, where he identified new product and market opportunities and managed their rapid growth as they scaled.
"I'm thrilled to be joining Right Networks at this stage of its growth," said Hughes. "The company is the market leader in the QuickBooks hosting space and its proven technology has transformed the way accountants do business today. I look forward to playing a key role on the leadership team as we enable more businesses to move to the cloud."
Free Newsletter Sign-up