Numerex's Board of Directors Appoints Marc Zionts as Chief Executive Officer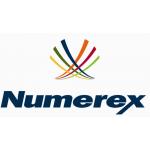 Numerex's Board of Directors Appoints Marc Zionts as Chief Executive Officer
Numerex Corp (NASDAQ:NMRX), a leading provider of interactive and on-demand machine-to-machine (M2M) products and technology enabling the Internet of Things (IoT), today announced that its Board of Directors has appointed Marc Zionts as its Chief Executive Officer, effective September 1, 2015. In addition to his new position, Mr. Zionts will join the Board of Directors of the Company. Mr. Zionts will succeed Stratton J. Nicolaides, who will remain CEO until September 1 and then assume the position of Executive Chairman.
"Marc is a seasoned executive and entrepreneur with over 30 years of experience and a proven track record of success. Marc has led six companies since 1987, five of which were acquired and one of which completed a public offering realizing over $2B in value for investors. Most recently, Marc was the President & CEO of Aicent (owned by TA Associates) that was acquired by Syniverse. I look forward to working closely with Marc and the Board of Directors in my role as Executive Chairman, with the shared goal of continuing the Company's transition to becoming a premier IoT solutions provider in the marketplace and delivering value to customers and shareholders alike," stated Mr. Nicolaides.
Mr. Zionts stated, "I am very excited to join Numerex. The experience and performance of the team combined with the opportunity in the IoT market create an attractive environment for growing the Company in the future. Numerex's proven platform, innovative solutions and large customer base provide an excellent foundation for capturing additional market share as the IoT business continues to grow and mature."
Mr. Zionts most recently served as the Chief Executive Officer and President of Aicent, Inc. (a provider of mobile data network services and solutions) from September 2013 until its acquisition by Syniverse in August 2014. Prior to Aicent, Mr. Zionts was a Vice President at Allot Communications (a leader in DPI-based broadband solutions that leverages network intelligence to analyze, protect, improve and monetize the user experience over mobile, fixed and cloud assets). Mr. Zionts joined Allot after they acquired Ortiva Wireless, Inc. in May 2012 where he was the President & Chief Executive Officer from January 2008. Between August 1987 and December 2007, Zionts led three additional firms including FastMobile which was sold to Research in Motion (RIM)/Blackberry. Mr. Zionts has both Bachelors in Science and Masters in Science degrees from the Georgia Institute of Technology. Zionts is also a board member of Pivot 3, TEOCO and Friends of the Earth.
Free Newsletter Sign-up