GFT Group Announces Appointment of John Downing as Enterprise Architect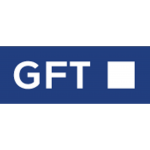 GFT Group Announces Appointment of John Downing as Enterprise Architect
GFT, the leading provider of business, design and technology consulting to the investment banking community, today announces the appointment of John Downing, Enterprise Architect and Programme Manager.
John joins GFT with over 20 years' experience as an entrepreneurial, pragmatic and successful enterprise architect and ProgrammeManager in treasury and investment banking.
John has a solid knowledge, and working experience of financial instruments and markets, investment banking, risk management, IT systems' development, training and competence regimes, plus Systems Development Life Cycle (SDLC) process requirements. John has extensive experience of enterprise architecture programme delivery using a global model, and has lead engagements with stakeholders based in in the UK, United States, Europe, the Caribbean and Asia.
Steve Lewis, Head of the Design and Technology Consulting UK said: "John will play an integral role in helping to propose and deliver outstanding enterprise architecture framework projects on behalf of GFT for our clients. In particular, John will be instrumental in successfully implementing a range of regulatory compliance programmes. We are excited to see John bring his wealth of experience and enthusiasm to the role within the team."
Free Newsletter Sign-up