Capita Strengthens its Team with New Appointment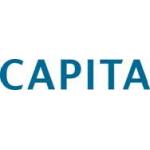 Capita Strengthens its Team with New Appointment
Capita Collaboration Technologies has appointed Simon Payne as managing director.
Simon has more than 20 years senior directorship and board experience, leading large organisations within the ICT industry in the UK, USA and Australasia. He has a strong focus on developing product strategies, as well as growing businesses organically and through acquisition.
Simon was previously managing director of Daisy Corporate Services, part of Daisy Group, and Damovo UK. He replaces Martin Jakobsen, who has moved to a new role within Capita, managing network and security specialist NTS.
Capita Collaboration Technologies, part of Capita IT Enterprise Services, supports and manages more than 35,000 contact centre agents, 70,000 telephony users and 155,000 end-points for our clients across the UK.
Simon said: "Technology trends such as cloud, mobility, big data and the Internet of Things are driving the need for digital transformation, helping organisations to achieve efficiencies, increase productivity and improve customer experiences.
"I believe Capita Collaboration Technologies is well positioned to help organisations address and exploit these trends. I'm extremely pleased to have this opportunity to strengthen and grow its position as a market leading provider of communication and collaboration solutions."
Free Newsletter Sign-up