Samsung Pay Rolls Out in Brazil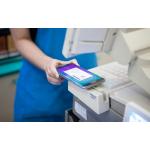 Samsung Pay Rolls Out in Brazil
Payments
,
Infrastructure
Samsung Electronics announced today that Brazil will roll out Samsung Pay on July 19, with major financial partners, making it the first market in South America to introduce the company's mobile payment service.
Secure and easy to use, Samsung Pay can be used to make purchases almost anywhere¹ that debit cards or credit cards are accepted. Samsung Pay allows users to pay with their compatible Samsung smartphones at point of sale terminals, thanks to both MST (Magnetic Secure Transmission) and NFC technologies.
Brazil joins South Korea, the United States, China, Spain, Singapore, Australia and Puerto Rico in the list of priority markets to launch the mobile payment service.
According to research conducted by FEBRABAN (the Federation of Brazilian Banks), mobile banking usage is on the rise in Brazil. In fact, it increased by 138 percent in 2015 with more than 11 billion bank transactions through smartphones, compared to 4.7 billion transactions in 2014.
"Samsung Pay reinforces the company's focus to bring value to both consumers and partners by bringing innovative services to your smartphones," said Thomas Ko, Vice President and Global Co-General Manager of Samsung Pay at Samsung Electronics. "We are always exploring creative technologies and use cases to provide consumers with an immersive and holistic mobile wallet experience."
"We are extremely excited that Samsung Pay is now available in Brazil. As the first market in South America to roll out our mobile payment service, Brazil will pave the way for the region's adoption of Samsung Pay," said André Varga, Product Director of Samsung's Mobile Devices Division in Brazil.
Extensive Partnership Ecosystem
Samsung Pay is strategically expanding its partnership ecosystem to provide greater flexibility, access and choice for customers. Samsung Pay has partnered with major payment networks such as MasterCard and Visa to bring mobile payments to consumers. The service will launch with major issuers including Banco do Brasil, Brasil Pré-Pagos, Caixa, Porto Seguro, and Santander. Additionally, we are working with other bank partners including Banrisul, Bradesco, Nubank and Itaú-Unibanco, to make the service available to more consumers in Brazil. The list of partners eligible to offer this service is available on the website http://www.samsung.com.br/samsungpay.
More Than a Payment
A secure and easy-to-use mobile payment service, Samsung Pay can be used to make purchases almost anywhere that cards are accepted.
SIMPLE: To make a payment on Samsung Pay, consumers simply need to swipe up on their compatible Samsung smartphone, scan their fingerprint and make a payment. It's that easy!
SECURE: Samsung Pay uses three levels of security to enable secure payments – fingerprint authentication, tokenization and Samsung KNOX.
ALMOST ANYWHERE: Samsung Pay will be compatible with a majority of existing and new payment terminals, allowing users to pay with their compatible Samsung smartphone anywhere that allows payment by swiping or tapping a card with MST and NFC.
Samsung Pay will be available on the Galaxy S7, Galaxy S7 edge, Galaxy A5 (2016), Galaxy A7 (2016), Galaxy Note5, Galaxy S6 edge+, Galaxy S62 and Galaxy S6 edge2 beginning on July 19 in Brazil.
Free Newsletter Sign-up