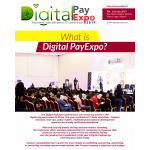 Digital PayExpo 2019
Payments
,
Infrastructure
Transformative innovations in technology can drastically drive presence and scale when offering financial services, opening doors to the unbanked and underbanked populations. The tremendous role that digital financial services (DFS) can play for financial inclusion is well welcome around the globe and regulators have continuously sought to unlock this potential by creating evolving enabling environments.
This year's agenda seeks to address the increasing need to understand the business case for financialinclusion and to leverage technological innovation to improve the customer value proposition in financial services, through commercially viable approaches. It is paced to answer the curious questions of whether financial inclusion is justified from a business perspective and whether there is an addressable market in the unbanked market segments.
This will definitely be a 3-day adventure, full of lessons and networking opportunities. Stay tuned to explore how best to multitask – providing sustainable solutions to the mass market, while at the same time appropriating value and staying relevant to the evolution of DFS in Africa.
Register to be part of our attendees & maximize your #DigitalPayExpo2019 experience. - https://bit.ly/2rzjv7f
Date:9th – 11th July 2019
Venue:Eko Hotels and Suits, Victoria Island, Lagos Nigeria
Free Newsletter Sign-up