Clearhaus Partners with Spanish fintech PaynoPain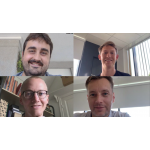 Clearhaus Partners with Spanish fintech PaynoPain
The financial institution Clearhaus has announced partnership with the popular Spanish fintech PaynoPain.
Now, Clearhaus, licensed to operate in Europe, will be providing payment rails for parts of PaynoPains transactions on the continent. PaynoPain performed more than 36 million transactions in 2019.
"Just like us, Clearhaus is known for its innovative technological capacity at an international level. We believe our collaboration will clearly benefit Spanish online stores," says PaynoPain CEO, Jordi Nebot.
Recently, PaynoPain and its payment gateway product, Paylands, has concentrated on helping small companies start selling online and overcome the COVID-19 crisis. But the Spanish fintech is also known for its techsavvy collaborations with hotels and its micropayment solutions for bankless populations in third world countries.
The staff of the two fintechs have yet to meet each other physically due to COVID-19. But as initial talks began, there was immediate chemistry. Both companies are established in 2011 and thus share an innate appetite for rethinking the current payment infrastructure with an API-first approach.
"In spite of the geographical distance, PaynoPain and Clearhaus come from the same place. We are young, technology-focused fintechs wanting to improve the payment industry to the benefit of businesses and consumers," says Clearhaus CEO, Claus Methmann Christensen. - "Spain is a thriving online market and we are looking forward to serving the Spanish online stores alongside PaynoPain," says Claus Christensen.
Clearhaus is already active on the Spanish payments scene, albeit to a lesser extent than in its Nordic home markets. However, in the hands of 47 million Spaniards, of which 30 million are avid online consumers, Clearhaus is looking to multiply its engagement in the Iberian peninsula.
Free Newsletter Sign-up