Republic Bancorp Completes Acquisition Process of Cornerstone Bancorp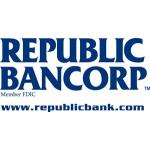 Republic Bancorp Completes Acquisition Process of Cornerstone Bancorp
Republic Bancorp is pleased to report, that as of the close of business today, it has completed the previously announced acquisition of Cornerstone Bancorp, Inc. ("Cornerstone") and its solely owned subsidiary, Cornerstone Community Bank ("CCB"), for approximately $32 million in cash.
Steve Trager, Chairman & CEO of Republic, commented: "We are excited about our further expansion into the Tampa-St. Petersburg-Clearwater area and the long-term value the Cornerstone acquisition presents to our shareholders. We firmly believe that combining Cornerstone's strong sales culture and market presence with the financial support of Republic will be a win-win for everyone."
David Feaster, the President and CEO of the former CCB and the new President for the Pinellas Market of RB&T, stated: "My staff and I are excited about joining the Republic team and the greater array of products and services that we will have available to offer our clients as part of a larger organization. By leveraging Republic's strong balance sheet, we will be able to expand relationships with our existing CCB clients and attract new, larger relationships that were more difficult to obtain in the past for a bank under $500 million in assets. We are eager to tell our clients and the community the benefits of being a customer of Republic Bank."
As of today's acquisition completion date, Cornerstone had total assets of approximately $230 million, including total loans of approximately $190 million and total deposits of approximately $200 million. The acquisition is expected to be accretive to Republic's Diluted Earnings per Class A Common share during the first twelve months, post-acquisition. With the completion of the acquisition and the addition of CCB's four banking centers, RB&T now has six banking centers in its Tampa-St. Petersburg-Clearwater footprint and 44 banking centers throughout Republic's entire network.
Free Newsletter Sign-up