Kofax Announces the Closing of its Acquisition of Top Image Systems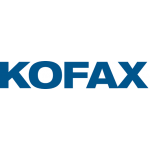 Kofax Announces the Closing of its Acquisition of Top Image Systems
Kofax®, a leading supplier of Intelligent Automation software to automate and digitally transform end-to-end business operations, today announced the closing of its acquisition of Top Image Systems™ Ltd. (NASDAQ:TISA) (TIS), a global innovator of on-premise and cloud-based applications that optimize content-driven business processes.
TIS' on-premise and cloud-based applications automatically capture, process and deliver content across enterprise applications, transforming information entering an organization into useful and accessible electronic data, and delivering it to the relevant business system or person with minimal manual handling.
The acquisition strengthens and enhances Kofax's Digital Capture and SaaS-based capabilities, allowing the company to further advance the secure cloud capabilities of its Intelligent Automation platform.
Free Newsletter Sign-up