BBVA partners with Fintonic to be part of its loan marketplace
BBVA partners with Fintonic to be part of its loan marketplace
The Fintonic platform processes the entire loan procedure for amounts up to 30,000 euros in just three minutes while you are still connected to the app.
Fintonic provides real-time information on bank accounts, credit cards and insurance policies. Its alert system helps you to manage finances better.
Entities such as EVO Finance, Wanna, WiZink or Zaplo have also joined the loan marketplace.
Fintonic, the app that makes money management and savings easy for over 450,000 users, continues to grow. It is the first PFM to develop a full lending platform as part of its standard offering, the checkout is within the app, providing a true Amazon-style experience.
Today the Spanish Fintech announced at the Money20/20 Europe event that BBVA has signed up to be part of the Fintonic loans platform, that processed the entire loan procedure for amounts of up to 30,000 euros without you having to leave the app, regardless of the institution providing the loan.
With over five years' experience and more than 760,000 aggregated bank accounts, Fintonic provides real-time information on bank accounts, credit cards and insurance policies. In addition, it has an alert system that advices you when commissions are charged, when you are overdrawn, when insurance policies are about to expire, among many other features.
Lupina Iturriaga, founder and general manager of Fintonic, has specified that "Fintonic goes beyond the traditional PFMS (Personal Financial Management System) and, unlike banks, it is committed to a marketplace that offers loan alternatives from various institutions".
In addition, Fintonic allows you to take out a loan in less than three minutes, with an "end to end" format that uses customer information and risk profiles based on economic and socio-demographic analyses, machine learning prediction tools and external validation sources such as ASNEF, TEU or FACTIVA. The management services provided include billing and debt recovery if partner institutions require such services.
In addition to BBVA, other large banks and financial companies such as EVO Finance, Wanna, WiZink or Zaplo have partnered with the Fintonic loan platform. To date, the platform has processed over 7,500 loans for users, with a total volume of over 30 million euros and an average of 3,850 euros per contract.
A fully customized process
Fintonic simplifies the loan process as it provides a prior selection of financial products best suited to the user´s characteristics while simultaneously guaranteeing that each client meets the lending institution´s requirements.
Fintonic provides each user with a free and personalized FinScore, an index that offers information about their credit profile and the conditions associated to financial products (interest, fees, amounts, terms, etc.). This index provides a score between 0 and 900 points and is a fully independent and transparent solvency indicator.
In 2017 Fintonic secured a 25 million euro funding deal, involving ING Bank and PSN Insurance groups. The Company, founded in 2012, has other investors such as Ideon Financial Solutions, Inception Capital, Onza Capital, Atresmedia and other private partners that provide extensive strategic expertise.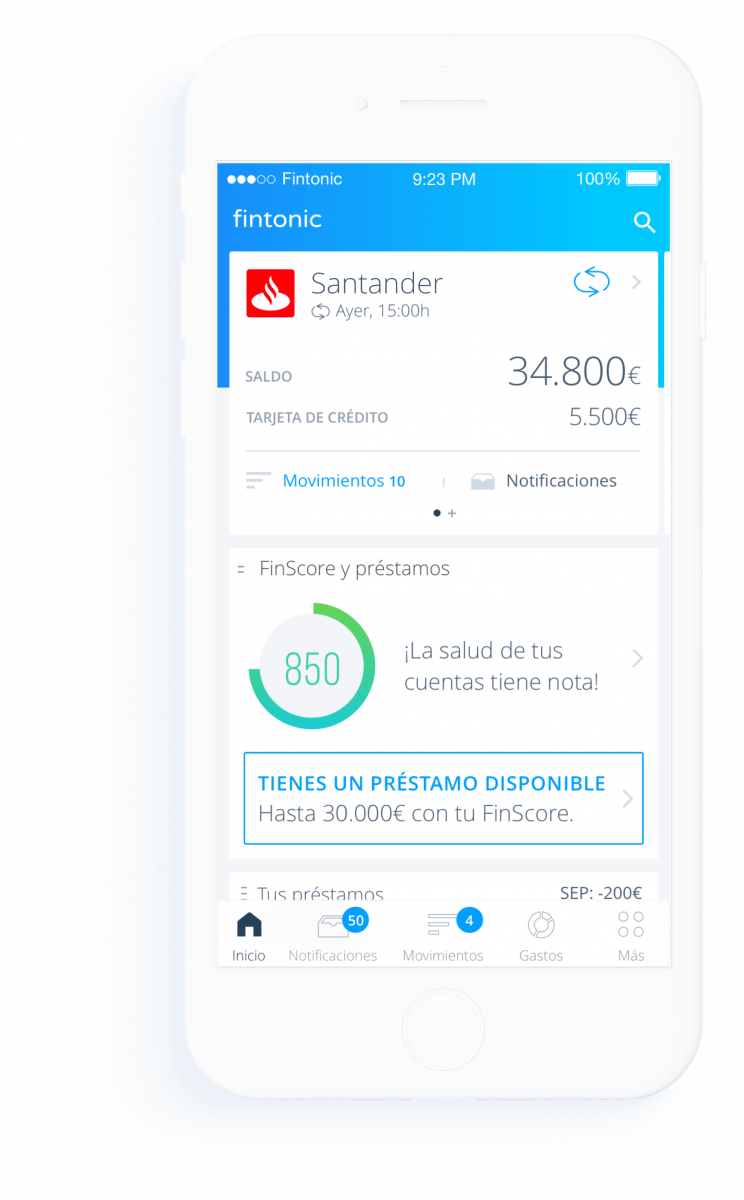 Free Newsletter Sign-up