AltaPacific Bancorp Terminates Merger Agreement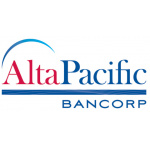 AltaPacific Bancorp Terminates Merger Agreement
AltaPacific Bancorp (OTCBB:ABNK), the parent company of AltaPacific Bank, announced today that they have terminated the Agreement and Plan of Reorganization and Merger, dated as of September 1, 2016 (the "Merger Agreement") previously entered into among AltaPacific Bancorp and Commerce Bank of Temecula Valley ("Commerce Bank"). The decision to terminate the Merger Agreement was made after Commerce Bank's shareholders did not approve the Merger Agreement at a special meeting of shareholders held on Friday, April 14, 2017. Likewise, a proposal that would have approved an adjournment of the meeting to allow for the solicitation of additional votes did not receive shareholder approval.
Charles O. Hall, Chief Executive Officer of AltaPacific, commented, "Our management team has a long history of successful mergers and we are certainly disappointed that Commerce Bank's shareholders did not approve this merger. We continue to believe the combination created by the merger of AltaPacific and Commerce Bank would have served the best interests of both company's shareholders. With the termination of the merger agreement, we will now focus on other potential merger and acquisition candidates while continuing to grow and develop our existing business relationships."
As a result of the termination of the Merger Agreement, the election period for Commerce Bank shareholders to elect the form of merger consideration in the merger has also been terminated. All Commerce Bank shareholders who have already surrendered their original share certificates in connection with making an election, or who continue to submit original share certificates in connection with making an election, will have their original share certificates returned to them by the exchange agent.
Free Newsletter Sign-up