Hackathon in Prague: SDK.finance Built API for Komercni Banka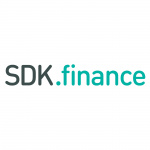 Hackathon in Prague: SDK.finance Built API for Komercni Banka
SDK.finance has built API for KB (Komercni Banka, a subsidiary of Societe Generale) during the Hackathon organized by Startup Yard & KB, and integrated it into its framework. The Inaugural Banking coding event took place in Prague, Mar 24 – 26 and hosted 11 talented teams. SDK.finance was awarded a third place. It was a spectacular opportunity for them to demonstrate the immense potential of APIs for a single bank as well as its projected impact for the whole banking industry.
Having received raw bank data in csv format SDK.finance's team wrapped this data into API and deployed it in Amazon Web Services infrastructure. By means of which they enabled the 3rd party providers to access bank's data and develop innovative solutions on the top of bank's APIs. Such an approach in banking lays ground for collaboration between banks, FinTech companies and non-bank digital disruptors. Banks in turn gain benefits such as reduced cost and time-to-market, and an opportunity to expand to services in other areas of banking and beyond.
CTO of SDK.finance Pavlo Sidelov said: "More than ever before banks are in need of agile technological partners who can accelerate their digital transformation. API is a recommended technical tool by PSD2. In addition it creates an ecosystem with multiple players and enables banks to secure new revenue sources".
Free Newsletter Sign-up