Path Solutions Named Most Outstanding IT Company for Islamic Finance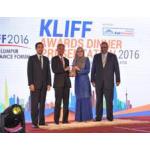 Path Solutions Named Most Outstanding IT Company for Islamic Finance
Path Solutions, a global provider of cutting-edge software solutions for the Islamic financial services industry today announced that the panel of judges for KLIFF Islamic Finance Awards 2016 has selected Path Solutions as a recipient of the 'Most Outstanding IT Company for Islamic Finance' award.
For the past 12 editions of KLIFF Islamic Finance Awards, many outstanding individuals and institutions in the field of Islamic finance have been honored and recognized for their contribution and significant efforts in developing the Islamic finance industry.
"We're tremendously pleased that KLIFF has identified Path Solutions as 'Most Outstanding IT Company for Islamic Finance' for the second consecutive year. Over the past 25 years, Path Solutions has built an unbeatable record of success delivering advanced technologies for the Islamic financial services sector, and we will continue to focus on execution and differentiate ourselves in the marketplace", commented Mohammed Kateeb, Group Chairman & CEO of Path Solutions. "Considering the current economic climate, it is truly remarkable to be able to innovate, prosper and grow in the way we have done. Regulations, competition, customer demand, and innovations are driving fintech evolution at an incredible pace. We can't always predict the future, but we assure our clients and partners that we are always ready for it".
Held in conjunction with the 13th Kuala Lumpur Islamic Finance Forum (KLIFF 2016), the KLIFF Dinner & Industry Awards Presentation took place on Monday 21 November 2016 at Hotel Istana in Kuala Lumpur, Malaysia in the presence of Y.B. Dato' Othman Abdul Aziz, Timbalan Menteri Kewangan I, and local and international bankers, lawyers, financiers, practitioners, and academicians.
Free Newsletter Sign-up