BinckBank Unveils Digital Wealth Management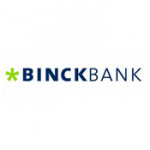 BinckBank Unveils Digital Wealth Management
Investment Management
,
Wealth Management
BinckBank introduces the automated discretionary management service Binck Forward.
With this brand new service, BinckBank adds a low minimum initial investment management solution to its suite. Binck Forward is particularly suitable for customers who want to invest, but do not want to manage their own portfolio on a daily basis.
Binck Forward enables customers to achieve their various personal financial goals. A financial goal may be capital appreciation, additional retirement funds, children's education and other cherished dreams which require a longer term investment. The Binck Forward platform completely automates the investment approach and thus provides an automated simple to use and easy to understand way to grow wealth.
It is the introduction of Binck Forward that results from the recently acquired FinTech firm Pritle. "This acquisition allows us to make automated wealth management more accessible. With our new Binck Forward offering we present an attractive alternative for customers who prefer to outsource investing to a specialist." Said Vincent Germyns, Chairman of the Board of BinckBank. "Firstly we have empowered retail investors to trade online. With Binck Forward we add an accessible online portfolio management offering which enables customers to easily manage their assets online. The low interest rates environment combined with decreasing social security programs and continued high costs with wealth managers make people look for alternatives to grow wealth. Helped by technology, people are taking a more forward thinking approach. Binck Forward wants to enable individuals across Europe to more easily achieve their financial aspirations."
Breakthrough in accessible online portfolio management
Investors can easily open an account online, regardless of his or her investment knowledge or experience. In setting their personal investment profile, customers set their own personal financial goal and a time horizon. The service will then create a customized investment portfolio consisting mainly of cost-efficient index funds. The investment risk will be reduced automatically as the goal nears completion. The service also offers complete control in terms of changing goals online with just a few clicks. The low initial € 10 minimum investment allows millions of consumers to get more out of their money. Binck Forward also gives clients 24/7 insight into the portfolio and expected returns. Binck Forward is priced at 0.5% per year calculated on total invested assets inclusive of VAT. The underlying fund costs can vary up to 0.3% per year. Investments easily remain retrievable online.
Free Newsletter Sign-up