Popular Community Bank Continues to Unveil Digitally Enhanced Branches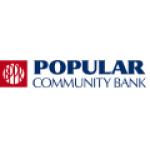 Popular Community Bank Continues to Unveil Digitally Enhanced Branches
Popular Community Bank, a subsidiary of Popular, Inc. and one of the nation's premier community banks, today announced the continuation of its Retail Network Transformation initiative with the newly digitally transformed Popular Community Bank branch at 164 East 116th Street in East Harlem, New York City.
Popular Community Bank was established in East Harlem in 1990, when the branch was formerly part of Banco de Ponce. Popular sought to invest in this area, help businesses overcome barriers to growth and bring banking services to the community at a time when ATMs were not available in the immediate area.
"We are proud to have strong, lasting roots in the East Harlem community. The new technologically-enhanced branch gives customers more options on how they choose to bank with onsite guidance," said Manuel Chinea, COO of Popular Community Bank. "Our mission for customers here is the same one we had over 25 years ago - to deliver exceptional services, engagement and opportunity."
Popular Community Bank launched its first digitally transformed branch in 2015. The opening of 116th Street marks the 10thtransformed branch as part of the technology enhanced strategy, with several of them located in Upper Manhattan including new branches at 109th St. and Broadway and 180 Dyckman St.
Customers will be able to utilize EZ Deposit ATMs, mobile and other in-branch self-service tools to expedite their experience.
"We are thrilled to continue offering our services and strengthening our long-term ties with the East Harlem community. Our team believes in providing unparalleled service and financial literacy education on topics like savings, life insurance and how to secure a loan," said Paul Mak, New York Metro Region Executive. "Now we are complementing our hands-on approach with more options that allow for our customers to bank in different ways."
Free Newsletter Sign-up