New Partnership Between Sphere 3D and the U.S. Black Chambers, Inc. Will Offer Application Mobility, Data Management and Data Protection Solutions to Their 245,000 Business Members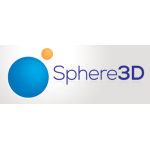 New Partnership Between Sphere 3D and the U.S. Black Chambers, Inc. Will Offer Application Mobility, Data Management and Data Protection Solutions to Their 245,000 Business Members
Sphere 3D Corp (NASDAQ: ANY) a leader in virtualization technology and data management solutions, announces "Let's Get Smart on Technology," a new program designed to help small and medium-sized businesses (SMBs) secure and access their company's data anywhere, any place, anytime whether in the office or in the cloud. The initial launch of the program is specifically tailored to the U.S. Black Chambers, Inc. (USBC) and its 115 Chambers in 28 states with 245,000 business members.
In partnership with the USBC, Sphere 3D will offer an integrated set of technologies and support, which will include executive level interactions with the organization's local Chamber presidents for delivery of a variety of solutions and services.
"The U.S. Black Chambers understands the importance of secure application mobility and data protection to the SMB; however it has been a service out of reach for many of our members," said Ron Busby, Sr., president and CEO, U.S. Black Chambers. "This partnership with Sphere 3D is not only a commitment to our members, it is a commitment to the success of small businesses."
By 2020, 78 percent of small businesses will be fully adapted to the cloud, up from 37 percent in 2014, according to Small Business Success in the Cloud, a recent research report jointly produced from Intuit (INTU) and Emergent Research. Let's Get Smart On Technology is one tenet of Sphere 3D's go to market strategy specifically aimed at reaching and protecting the SMB market by offering enterprise grade solutions that meet the needs of smaller organizations.
"To remain competitive today, organizations must have the capability to provide their employees secure access to critical information anywhere, anytime," said Eric Kelly, Chairman and CEO, Sphere 3D Corp. "We are proud to partner with the U.S. Black Chambers in supporting this exciting new initiative to provide technology to the USBC members."
Today's SMBs have smaller budgets than their large corporation counterparts but still require enterprise IT solutions that can help them efficiently manage their day-to-day operations. Like larger enterprises, SMBs need insight into their customers and the business intelligence to successfully adapt to fluid business environments. Unfortunately, getting the right infrastructure to meet these needs can be difficult. Traditional solutions quite often require multi-vendor disciplines as well as IT staff and budgets that most SMBs find cost prohibitive.
Through specialty product bundles and vertically tailored professional services, SMB's can install all-in-one solutions that are designed to provide immediate availability of advanced IT capabilities. This approach allows businesses to benefit from increased mobility and access to their data so that they can be more productive, while maintaining enterprise grade data management and security at an affordable price.
Whether in Healthcare, Retail, Education, Finance or a multitude of other business verticals, a simplified and functional IT solution can help your business effectively improve the bottom line. Sphere 3D's offerings provide the greatest level of flexibility for SMB's looking to modernize their IT infrastructure through hybrid cloud solutions that allow applications and data to reside either in the cloud, on premise or both. To learn more please visit www.sphere3d.com
Free Newsletter Sign-up