Scality Again Named a Leader in New IDC MarketScape: Worldwide Object-Based Storage 2019 Vendor Assessment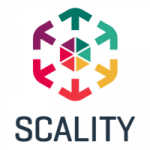 Scality Again Named a Leader in New IDC MarketScape: Worldwide Object-Based Storage 2019 Vendor Assessment
Scality, leader in software solutions for global data orchestration and distributed file and object storage, today announced that the new IDC MarketScape: Worldwide Object-Based Storage 2019 Vendor Assessment named Scality a Leader in object storage.
According to the report's author, Amita Potnis, "Scality's RING has been one of the recognised brand names in the object storage space. Scality's RING combines an object store, scale-out file system, and data management software. This combination offers Scality's customers the ability to take advantage of hybrid and multicloud deployments while keeping (and growing) the company's on-premises footprint."
"It takes innovation and a strong understanding of data—its sources, its formats, its use over time, and its value—to stay on top in this market," said Paul Speciale, Scality's Chief Product Officer. "We work hard at this, employing some of the most talented people in the industry to ensure that we really do understand and solve modern data challenges. We're truly pleased to see that the efforts are well-recognised. Our solid object-based storage with native file capabilities to broaden the utility, and hybrid and multi-cloud support enable customers to store, and more importantly, to use their data effectively, leveraging storage and compute resources across the broad range of options, with no data lock-in."
Visit Scality.com to view the IDC MarketScape figure and read the excerpt from the IDC MarketScape: Worldwide Object-Based Storage 2019 Vendor Assessment, by Amita Potnis, December 2019, IDC #US45354219, which includes a Scality profile and overall inclusion criteria.
Free Newsletter Sign-up