Advanced Logic Analytics Launchs Into the Global Financial Services Marketplace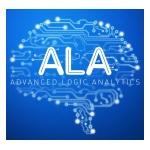 Advanced Logic Analytics Launchs Into the Global Financial Services Marketplace
Advanced Logic Analytics (ALA), a provider of enterprise big data and finance analytics solutions for buy- and sell-side institutions and other financial firms, is pleased to announce its launch into the global financial services marketplace to address the market`s growing requirement for big data analytics.
Advanced Logic Analytics is one of the most forceful and intentional moves made by a number of renowned senior IT executives, academia (including UCL and the University of Kaiser Lautern in Germany) and entrepreneurs in terms of investing in big data analytics technologies for the financial services industry that extend well beyond just big data.

Commenting on the launch, Pim Dale, CEO of ALA said: "Current advances in the fields of artificial intelligence (AI), and more specifically, machine learning and normalisation of unstructured data, will enhance the predictive capabilities of data analytics in the global financial services market."

Since 2015, the company has been in a research and development stage with the focus of creating a number of analytics solutions that span geographies and languages, plus a number of cloud based analytics services, all based on years of academic research.

IDC, the global market research, analysis and advisory firm, predicts that the big data and business analytics market will grow from $130b currently to $203b by 2020. The banking industry is expected to be a big driver of this increase in spending. The IDC report ('Worldwide Semi-annual Big Data and Analytics spending guide' ) found that in the banking field these investments will focus mainly on security and compliance related issues, together with customer insight analytics.

Advanced Logic Analytics has been launched with investment from leading figures in the financial services and IT industries, the company will focus initially on the London and New York financial centres, with planned global expansion in 2018.
Free Newsletter Sign-up